According to a recent Microsoft survey, the human attention span is now officially shorter than that of a goldfish. That's right – Finnegan the fish has an easier time holding a thought than the average human. The digital age has changed the way we communicate, the way we order food, and even the way our minds work. Our decreasing attention spans has spurred marketers' interest in snackable content.
BuzzFeed is where the Internet goes to snack. It's the poster child for quick, entertaining content. We wanted a get a better understanding of the anatomy of content on BuzzFeed, so we used BuzzSumo to analyze 100 most-shared articles between March 15, 2015 and March 15, 2016. We looked at word count and image count. We also categorized the articles into 11 different topic areas:
Books, Movies, and TV:

From "Parks and Rec" to "Pride and Prejudice," BuzzFeed has a lot to say about books, movies, and TV.

Current Events:

Articles related to the news.

Family and Friends

: List and articles about best friends, sisters, and everyone special in your life.

Generations:

BuzzFeed has a fondness for guessing your age and talking about the '90s.

Lifestyle:

This topic includes everything from cooking to DIY to articles geared toward elephant lovers and workers of a certain profession (e.g., hairdressers).

Mental Health:

Articles about coping with mental illnesses or assisting and understanding others with mental health challenges.

Parenting and Kids:

BuzzFeed helps you raise the tykes in your life.

Physical Health:

Anything related to exercise or coping with physical illnesses.

Region-Specific and Travel:

Articles about the unique aspects of being from a certain place, as well as travel articles.

Teaching

: Apparently, teacher memes are huge on BuzzFeed.

Women:

Articles tailored to women, including post on body positivity.
Our analysis yielded some interesting finds.
Takeaway 1: Not everything that goes viral is short.
Of the 100 articles we looked at, 15 were longer than 1,000 words and two were between 4,900 and 5,600 words.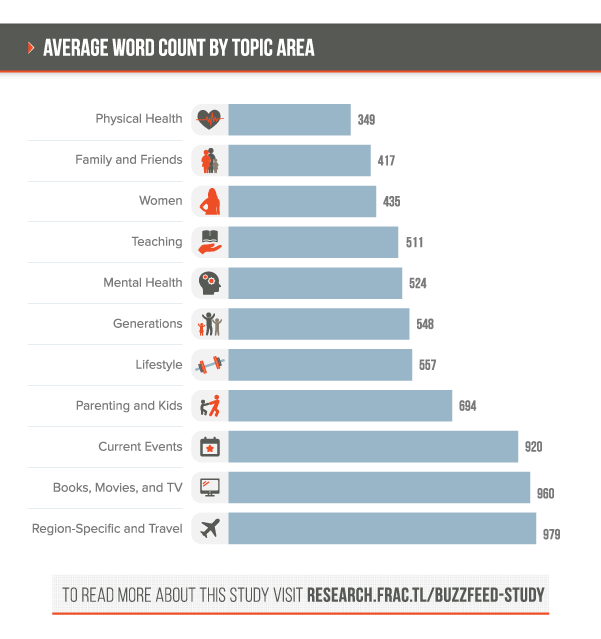 The truth is, long-form content isn't dead. Even on BuzzFeed, readers will share longer content, especially if it's:
Region-Specific and Travel:

980 average words per article

Books, Movies, and TV:

960 average words per article

Current Events:

920 average words per article
The longest article wasn't even a list. It was:
It was a 5,618-word doozy. However, the premise was interesting, and at 130 images, the article contained the most images of any of the 100 most-shared articles we looked at, giving it a text-to-image ratio of 43.2.
Takeaway 2: Not everything that goes viral has lots of pictures.
Not every top-performing BuzzFeed article had a heavy image-load. The least image–laden article, "This Is Why Your Baby Doesn't Sleep Through the Night," had 456 words per image, which is almost a full page (of 12-point, single-spaced font) per image.
Readers were more willing to share higher text-to-image ratio content in:
Current Events:

54 words per image

Mental Health:

40 words per image

Region-Specific and Travel:

31 words per image

Book, Movies, and TV:

30 words per image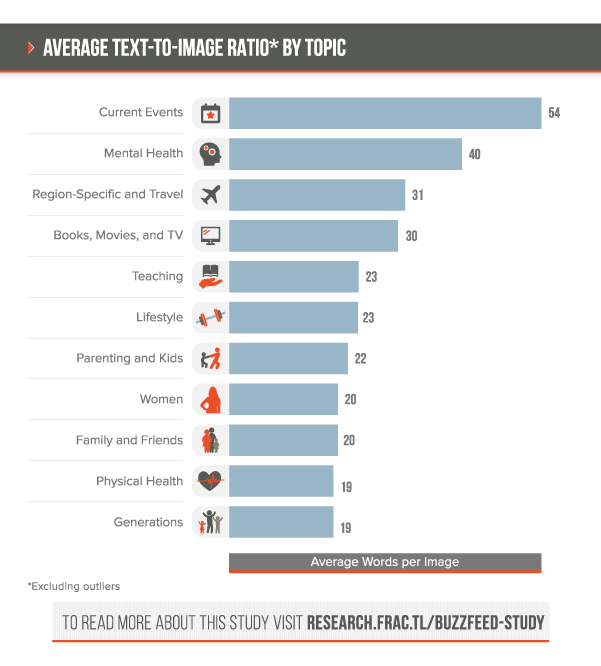 What can explain this?
Many of the current events articles were highly emotional and capitalized on trending stories.
The mental health articles tended to provide useful advice.
Region-specific and travel articles create geographic ego-bait, which helps increase share counts. It's also interesting to note that 4 of the 13 region-specific and travel articles were written for BuzzFeed Brazil.
(The title reads, "We Showed 10 Brazilian Habits to Gringos and They Were Shocked" and the caption is "30 days of vacation: approved. Trash full of dirty toilet paper in the bathroom: declined.")
4. Many of the articles in the books, movies, and TV category were lists (80%), which allow for easy reading or skimming.
For more help with optimizing your content, check out our research library.