In 2014, we partnered with BuzzSumo to look at the 1 million most-shared articles from the first six months of that year. We've teamed up with BuzzSumo again to see what has changed and what hasn't.
How do top traditional news organizations like The New York Times and BBC stack up against viral news sites like BuzzFeed and Upworthy? Which publishers and social media sites dominate the internet? Is Facebook still home to the majority of social sharing?
We analyzed the top 1 million articles shared across the major social media platforms (Facebook, Twitter, Google+, Pinterest, and LinkedIn) between December 2015 and June 2016. We looked at share counts and sentiment across publishers to reveal which sites dominate social sharing in 2016 and to better understand why these sites are leading the pack.
Social Platforms
In 2014, Facebook captured 81.9% of total shares. What's changed in 2016?
Facebook increased

its footprint to 90.2% of all shares.

Twitter is still a distant second

with 6.1% of total shares, decreasing from 8.6% in 2014.

LinkedIn jumped in front

of both Google+ and Pinterest, going from 2.2% of total shares to 2.5%.

Google+ has declined

in the percentage of top articles shared on the network from 4.3% to 0.3% of total shares.
Top Publishers, by Total Shares Across All Social Platforms
More Sites Are Creating Share-Worthy Content


Overall, total share numbers are down from 2014 for the top 10 publishers, though the overall number of shares across all publishers is up to 3 billion.

This means more publishers are creating popular content,

which is splitting the attention of social media users.

The Rise of Authoritative Niche Publishers


While BuzzFeed dominated total shares in 2014, they placed behind Goal.com and BBC for total number of shares in the first six months of 2016.

Goal.com, a soccer news site, topped the chart with 9% of Facebook shares.
What accounts for Goal.com's surprising dominance in this department?
More content

. Both Goal.com and BBC had lower average share counts (3,395 and 2,759 respectively) than BuzzFeed (7,009 shares), but they had a greater number of articles on our list.

Timing

. In the 2016 English Premier League Final, Leicester City won the league for the first time in their 132-year history against 5,000-to-1 odds. A number of other prestigious soccer championships and tournaments were held around the world within the six months we tracked. In addition to the Premier League Final, these included the UEFA Champions League Final, the Copa del Rey Final, and the Copa America tournament. All these matches lead up to the 2016 Summer Olympics in Brazil. For Goal.com, the first half of 2016 must have felt like Christmas.

Position. The site did not just spring up in 2016 – rather it had been growing its authority with quality content. Even before the year's big soccer news, Goal.com has been steadily increasing its organic traffic since 2014. Below, you can see Goal.com's organic traffic growth from SEMrush. This has probably played a big role in gaining the site more visibility as a destination for soccer fans, thus leading to the huge increase in social sharing.
Global Appeal.

Soccer has global appeal. According to SEMrush, only 42.3% of Goal.com's organic traffic originates in the U.S. (considering both desktop and mobile searches). In comparison, 73.9% of BuzzFeed's organic traffic comes from the U.S. Since the site is relevant to people all over the world, it has a huge audience that shares its content. Below is a screenshot of all of Goal.com's editions.

Only 16.6% of daily active Facebook users are in the U.S. and Canada. Goal.com's domination of sharing shows the power of content that can be shared on an international scale. Depending on your company's goals, you may want to start developing strategies to capture international audiences' interest.
Top Publishers on Each Social Platform
To be successful, you don't need to be popular on every social network. Similar to what we found in 2014, not one publisher has been a dominant source on all five social networks.
Only two publishers,

BBC and The New York Times

, were among the top five most-shared publishers on three different networks.

Goal.com, RT, and BuzzFeed

had top five success on at least two networks.

Since 2014, both

Mashable and Forbes

went from being top five publishers on three networks to now only one each.
By platform, the most-shared publishers were:
Facebook:

Goal.com (around 246.5M shares)

Twitter:

BBC.com & BBC.co.uk (around 18.8M shares)

LinkedIn:

LinkedIn.com (around 21.3M shares)

Pinterest:

BuzzFeed.com (around 14.5M shares)

Google+: BBC.com & BBC.co.uk (around 756.7K shares)

Average Shares per Article
In 2014, we found that only 11 publishers averaged 5,000 or more shares per article. In 2016, 14 publishers reached this average, but the top publishers had significantly fewer shares overall.
Upworthy and ViralNova both earned an average of more than 60,000 shares per article in 2014. Upworthy is still at the top of the list for the publishers with the most shares. However, it currently only averages a little over 15,000 shares per article.
ViralNova no longer places in the top 20 publishers. Instead, sites like National Geographic and TED Talks now place within the top three.
This could signify that in the last two years, traditional news organizations have learned how to create viral content that people want to share rather than just sites like ViralNova, which focus on attracting site traffic through social shares.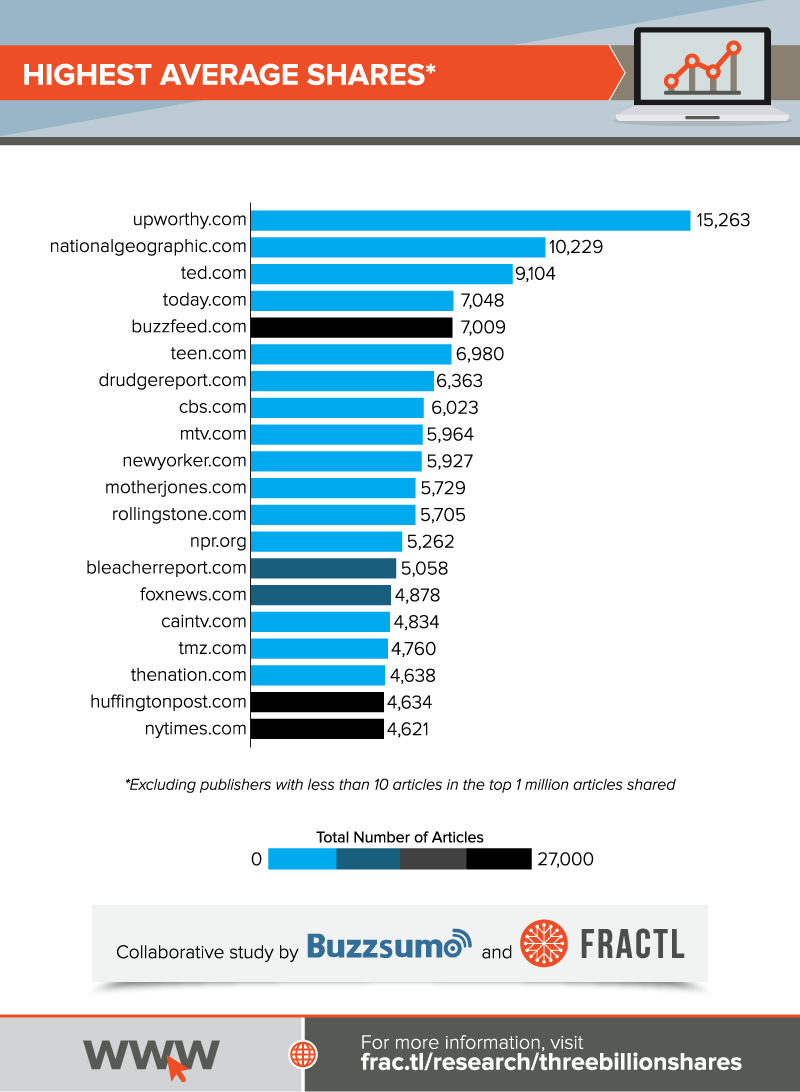 Sentiment of Most Shared Articles
Using MeaningCloud, we analyzed the positive, negative, and neutral sentiment of articles shared across publishers and platforms. We found that overall, positive emotions prevailed.
Among the top 1,000 articles shared, 69.3% of them had a positive sentiment, while less than 8% of them were negative.
The sentiment of the top 100 articles on each individual social network echoes how users behave on each platform.
LinkedIn has an extremely low amount of negative sentiment at a mere 1.1%. This highlights how users want to maintain a professional reputation among potential and current employers and co-workers.
Pinterest, known for DIY, beauty, and food content, champions a positive sentiment of almost 98%.
Twitter has almost double the number of articles with negative sentiment than Facebook, which boasts the most neutral articles.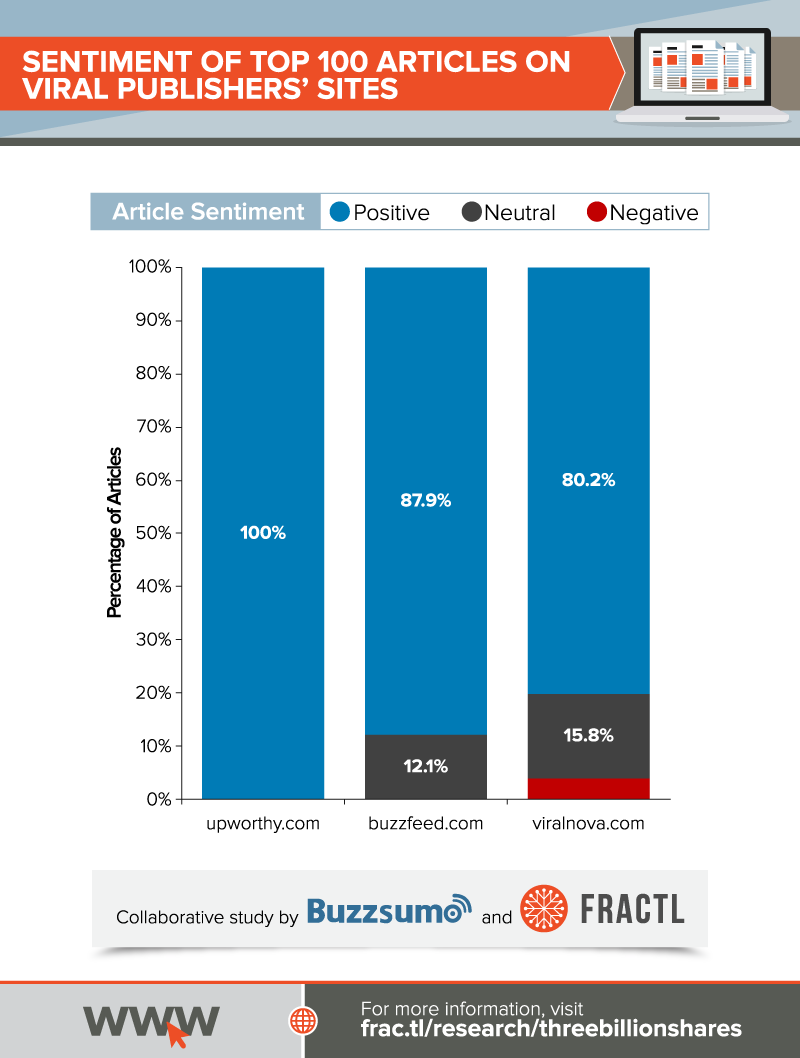 Since publishers that focus on shareable content hold the top spots for the average number of shares, and our research determined most content shared on social networks are positive, it's unsurprising that viral content sites are mostly positive in sentiment. Upworthy boasts a 100% positive sentiment in its top 100 articles.
Conversely, a lot of traditional news sites published neutral content. The news sites with the most positive sentiment, The New York Times and BBC, were also the publishers with the most successful multiplatform sharing numbers. Fox News has the least-positive sentiment but was not ranked among the top five publishers on any social media platform. When we conducted this same study in 2014, Fox News had the highest percentage of positive sentiment articles. In a different study, when we looked at Facebook Reactions, Fox News also had the greatest amount of negative sentiment.
Key Takeaways
Positive Content Is Primed for Social Sharing on All Platforms Both viral content and news publishers with the majority of positive and neutral content find the most success among multiple social media platforms. Our research on viral emotions backs this up; we found that viral content often elicits a purely positive response in viewers.
Focus on Facebook for the Greatest Sharing Potential Facebook remains the dominant social media network. Our prior research uncovered that 84% of Facebook users visit the platform at least once a day and over half of users share content at least once a week. Their massive user base of over a billion users – with the majority living outside of the United States and Canada – leaves a giant international market ready to consume and share high-quality and positive content.
It's Still Anyone's Game Looking at a success story like Goal.com, we see that major publishers are not guaranteed to dominate social sharing in the coming years. Small players can become tomorrow's socially dominant sites by getting the right content in front of the right audiences.
Do you want to create content that attracts massive amounts of social sharing? See how we've done it for our clients or get in touch to find out how we can do it for you.
Methodology
Using BuzzSumo, we looked at the top 1 million articles shared across top publishers between December 2015 and June 2016. We compiled a list of 197 top publishers, which we selected based on a combination of domain authority (83% of publishers on our list have a domain authority over 80) and social media presence (including lower domain authority sites with influence on social media, such as BroBible.com and ViralNova.com). All 190 publishers that were examined in the original study were also included in our list.
We analyzed sentiment using MeaningCloud.