Succeeding in having a post "go viral" is one of the highest accomplishments a marketer can hope to achieve. When a piece of content gains traction, the end result is two-fold: more traffic to your page and more eyes on your business. Our exclusive research on the Harvard Business Review offers new insight into biofeedback techniques such as galvanic skin response and metrics such as electrodermal activity to more accurately predict what goes into making viral content.
The science in what determines virality is not perfect, but there are methods and tested applications that can help boost content organically through quality design. This, along with other factors, will help skyrocket it to virality.
In an effort to determine further methods to identify what makes content go viral, we analyzed a specific metric called galvanic skin response, or GSR, to measure the involuntary electrophysiological signals that our bodies produce. By identifying the types of automatic body responses to viewing pieces of content, we are able to see things that words can't express: the way our eyes and brains react to what we see.
In an attempt to quantify this method of research and determine if our bodies are able to determine viral content, we set up a study using the following parameters:
We looked historically at a selection of 15 of our best performing viral posts and 15 of our lowest performing posts to create a range. These posts earned between an average of 11 social shares for the unsuccessful stories and over 21,000 social shares for the most successful ones. A testing group was shown the strongest visual content pieces from each campaign and were asked to rank their responses while we measured GSR among respondents. Using a 5-point Likert scale and a dichotomous 9-point scale, respondents were asked to score the assets based on interest level, shock factor, and more.
Respondents and Electrodermal Activity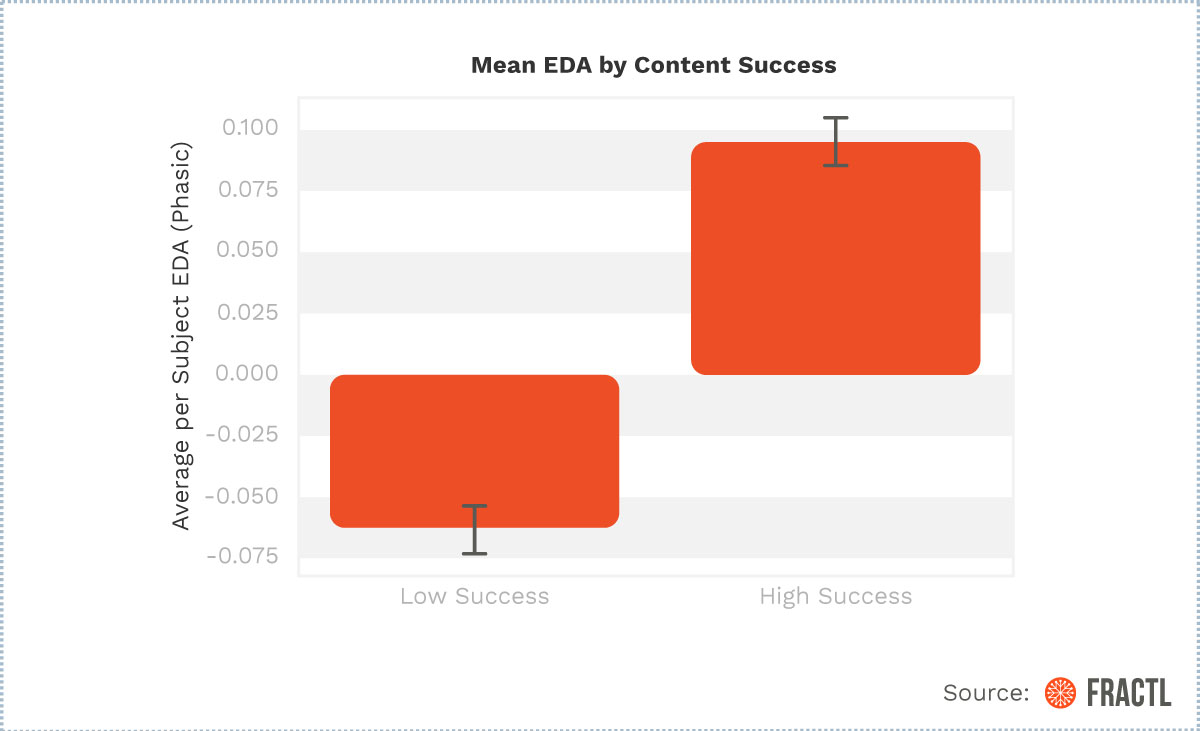 Interest level had no impact on respondents' GSR or their electrodermal activity (EDA); the highly viral content produced a higher GSR than the unsuccessful content. It didn't matter as much if participants were interested in the subject; GSR was significantly predictive no matter what content was shown.
Qualities that appeared in the viral content visual assets were not necessarily more attractive to test subjects, but their GSR was able to show gravitation to the viral content, regardless of if the content was deemed "interesting" or "surprising" by the respondent.
Interest Level and Predicting Viral Content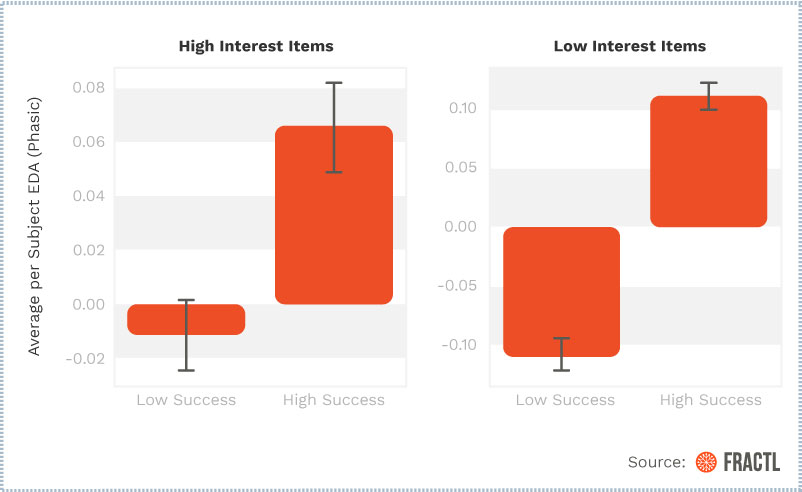 Traditionally, one of the most important metrics for measuring the results of a survey comes from self-reported data. In this case, these written responses had little to no bearing on EDA. In most conventional data, the responses of subjects acted as the foundation for the research itself.
The ability for the content to spark interest, joy, shock, surprise, or understanding was secondary to the ability for the viral content to produce skin and body reactions across the board.
Traditional Self Reporting Data vs. GSR
Although there were recognizable differences in how respondents ranked the content they saw, the typical self-reporting data had no real bearing on predicting viral content.
These findings, while important, should not discredit the value in engaging, captivating content. There is merit to content that inspires others and creates interest. Having newsworthy and emotional content is extremely important when attracting people to your campaigns. Stories with a relatability factor offer readers a meaningful connection to the message of the campaign. However, due to lower barriers of entry to using biofeedback techniques, marketers are developing more complex means to learn about content development.
GSR and The Future of Biofeedback Research
Thanks to modern developments, biofeedback techniques and devices have their place in a modern marketing strategy. As their reliability and accessibility increases, their impact on the world of marketing research can be instrumental in developing new theories on viral content. As we have seen, they continue to be just as valuable—if not more—than standard marketing methods.
Fractl's groundbreaking marketing research highlights our work in consumer research as we utilize methods such as GSR, eye tracking and heat mapping, UX testing, well-vetted focus groups, and more.
This exclusive research has been compiled by Jacob L.H. Jones, Fractl's Creative Process Engineer; Matthew Gillespie, a Creative Project Manager at Fractl; and Kelsey Libert, SVP of Marketing at Fractl. You can find the full study on the Harvard Business Review by clicking here.
Read about our consumer research services and stay up to date on our ongoing developments in cutting-edge marketing research!