"Create amazing content". "Build a targeted outreach list". "Write a compelling pitch".
As content creators and digital PR professionals, these are all things we know we should do to get our content featured on major publishers. While it's important to focus on the positive impacts of optimizing your marketing strategy, do you ever think about the things you shouldn't do?
Fractl has been interested in answering this question in the past, but we wanted to know how the publisher and PR landscapes have changed in the past five years with an update to our original research.
What gets on journalist's nerves? To find out, we surveyed over 500 online journalists, staff writers, contributors, and editors and asked them to rank their pitching pet peeves in order from most offensive to least offensive. Here are the things that really rub them the wrong way.
Pitching Pet Peeves, Ranked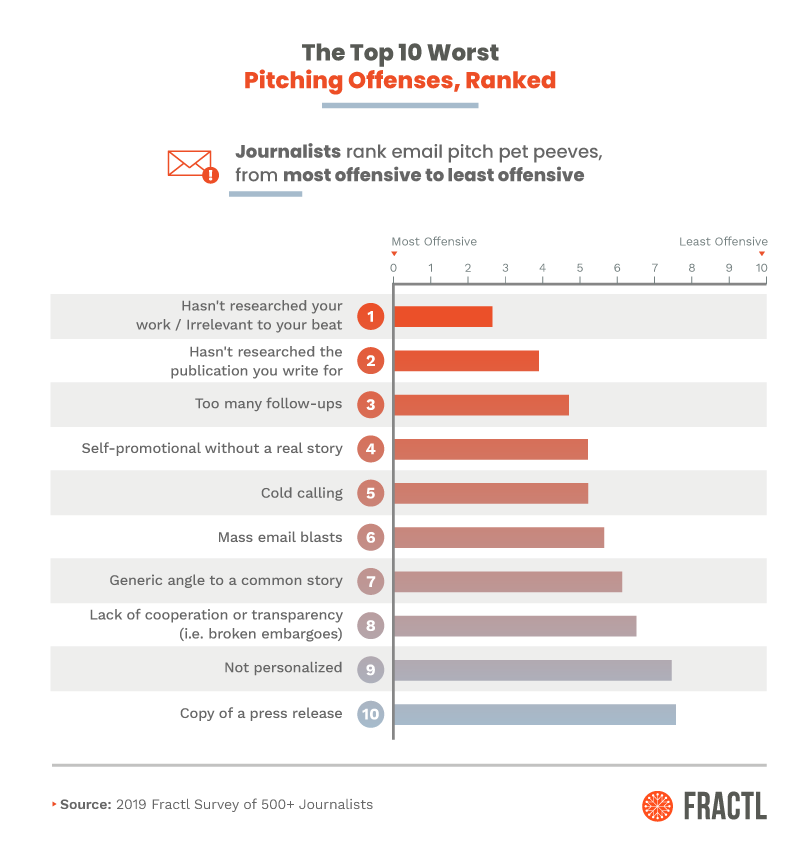 The No. 1 most abhorrent pitching practice that annoys journalists is sending a pitch irrelevant to their beat. The second most offensive? Not understanding the publication they write for. These two practices alone should go down into the #PRFail Hall of Fame because they're so painfully obvious—and yet PR professionals make these mistakes all the time.
Research should be the first thing PR pros do when conducting outreach. When you send a pitch that isn't targeted to the writer, you're basically telling them you don't understand them or their audience. Sending an email that doesn't relate to the beat of the person you are pitching wastes both your time and the recipient's time.
Advice from Journalists
Along with polling digital writers, editors, and contributors and having them rank bad pitching behavior, we also asked them for feedback to help guide the PR pros that frequently pitch them.
We solicited hundreds of responses from the top online publishers of today from organizations such as Time, CNN, The New York Times, BuzzFeed and more. This is what they had to say.
Scroll through the flipbook to learn exactly what journalists want to see in their inbox—and just as importantly, what they don't!
Conclusion
To recap, these are the Top 10 pain points we discovered that journalists deal with when receiving ineffective pitches:
Hasn't researched your work / Irrelevant to your beat
Hasn't researched the publication you write for
Too many follow-ups
Self-promotional without a real story
Cold calling
Mass email blasts
Generic angle to a common story
Lack of cooperation or transparency (i.e. broken embargoes)
Not personalized
Copy of a press release
There are now 6 PR pros for every journalist. This means that there is more competition for sought after media mentions than ever before. Not only are online writers getting inundated with more pitches, but they're also getting increasingly annoyed by bad pitching practices and press releases that aren't top quality. Help your pitch stand out with these tips. Happy pitching!
Methodology
We collected over 500 responses from online journalists, writers, and bloggers (either employed by an online publisher or working as a freelance contributor). We asked respondents a series of questions about PR pitches and their work in online publishing. For this study, we asked participants to rank a list of 10 pet peeves in order of most offensive to least offensive. Pet peeves were selected manually based on insights gleaned from previous survey data. We then asked participants an open-ended question in which we solicited advice from their perspective to the PR professionals that pitch them. Fifty responses were selected from a variety of online publishers and displayed in the flipbook above.