Inbound marketing is a powerful strategy and has become the go-to tactic for many brands because of its low cost and high returns – especially when it's compared with outbound marketing efforts. However, are marketing departments making a similar shift in terms of who they're hiring?
In order to gain a better understanding of what particular skills hiring managers are looking for and which specializations are on the rise, Fractl teamed up with Moz to produce The Inbound Economy report. We analyzed more than 75,000 job listings, revealing on-the-rise marketing skills as well as the states that have the highest concentration of inbound positions.
Here are three key insights from the study to help both recruiters and job seekers maintain a competitive edge.
1. There's an increased demand for T-shaped marketers.
In other words, brands are looking for someone who has surface-level knowledge of multiple skills paired with a more thorough understanding of one or two specialties – hence, the T-shaped marketer.
For our data set, we broke this general skill set into six popular marketing specializations – social media marketing, SEO, PPC (pay-per-click), Google Analytics, digital marketing, and content marketing. When we looked at the the 20 most common job titles, the top four roles – digital marketing manager, marketing manager, digital marketing specialist, and marketing coordinator – required familiarity in all six specializations. The only other position that required all six specialties was account manager, while another eight positions required at least four.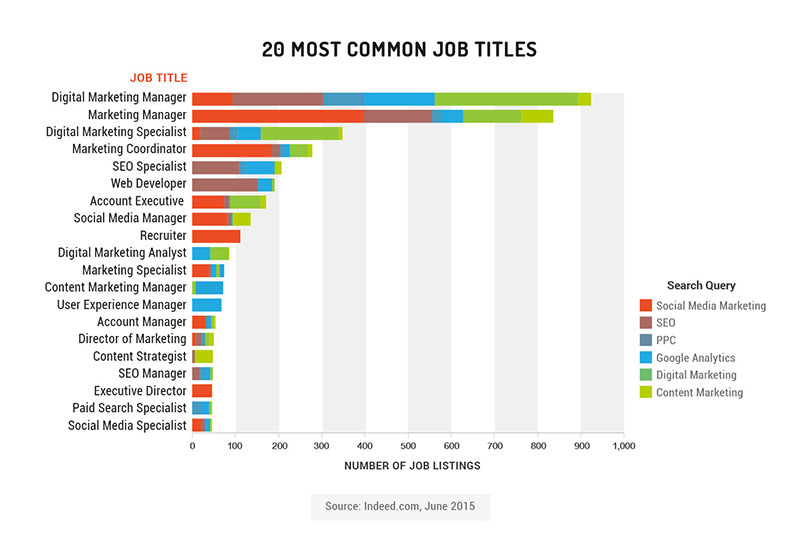 2. More professionals are emphasizing a background in content marketing.
We also scraped LinkedIn profiles to learn what skills professionals are highlighting on their resumes. Content marketing saw the most growth during the last two years, at more than 165 percent. A closer analysis also revealed the following:
Although "social media" only saw the second-highest growth, it was found in the most profiles – more than 2.2 million.

"Inbound marketing" saw the third-highest growth rate but was found in 181 percent fewer profiles than "SEO," which saw the lowest increase.

Only two skills – "content marketing" and "inbound marketing" – didn't hit the six-digit mark, appearing in fewer than 100,000 profiles.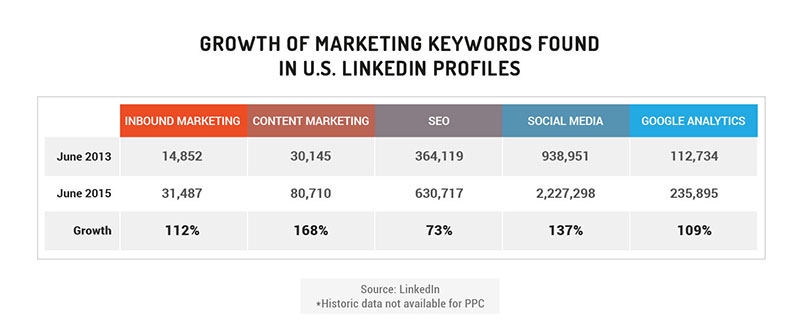 3. SEO is one of the highest-paid specializations.
We also looked at nine years of data for 10 popular marketing keywords – digital marketing, inbound marketing, social media marketing, social media management, content marketing, content strategy, SEO, search engine optimization, PPC, and Google Analytics. Our analysis revealed, for instance, that the number of job listings that included "SEO" peaked in 2011 and decreased more than 50 percent by January 2015.
However, the more interesting insight came when we compared the salaries of positions that are on the rise with the salaries of those on the decline. One of the biggest revelations: While the actual volume of job titles containing the word "SEO" has decreased, it's still one of the best-paid skills. Job titles that include "SEO" average more than $100,000 annually – nearly 70 percent more than a position focused on social media efforts, which saw the highest growth over nine years.
The biggest takeaway from our research? Remember that brands are looking to create a T-shaped team in order to optimize results. Companies need marketers who possess a broad skill set and an understanding of how focused tactics such as SEO and content marketing connect to a larger picture to drive bottom-line results.