Fractl has long been interested in the role that emotions play in content. From past research, we know content that elicits strong emotions from the viewer can cause them to take action — that is, share, comment, or like the post.
Knowing that emotional content tends to spark engagement, we wanted to dive further into the emotions causing people to hit "like" in 2020. This year has been notoriously severe in regards to news coverage: Between the global coronavirus pandemic, Black Lives Matter, and the upcoming presidential election, Americans especially have been tuning in to the news more often.
To answer this question, we looked at one year's worth of coverage from 10 major online news publications that cater to an American audience. Using BuzzSumo's content analyzer tool, we compared data from publishers, including CNN, Business Insider, Fox News, BuzzFeed, Bustle, Complex, NPR, Washington Post, The New York Times, and Huffington Post.
Knowing the tone of each publisher you're pitching content to can be integral in earning top-tier pr coverage for your clients. At Fractl, we know the pitching process can be just as necessary as the content creation process. Both aspects of content marketing need to be considered before executing any content on behalf of your clients. They go hand-in-hand: one cannot be successful without the other.
So, which publishers specialize in which emotions? Does lighthearted BuzzFeed illicit the funny bone more than its serious counterpart CNN? Read on to learn more.
Quick to Anger, Quick to Share?
What do the emotions "anger" and "love" have in common? They're the most common emotional reactions people have to the content we analyzed.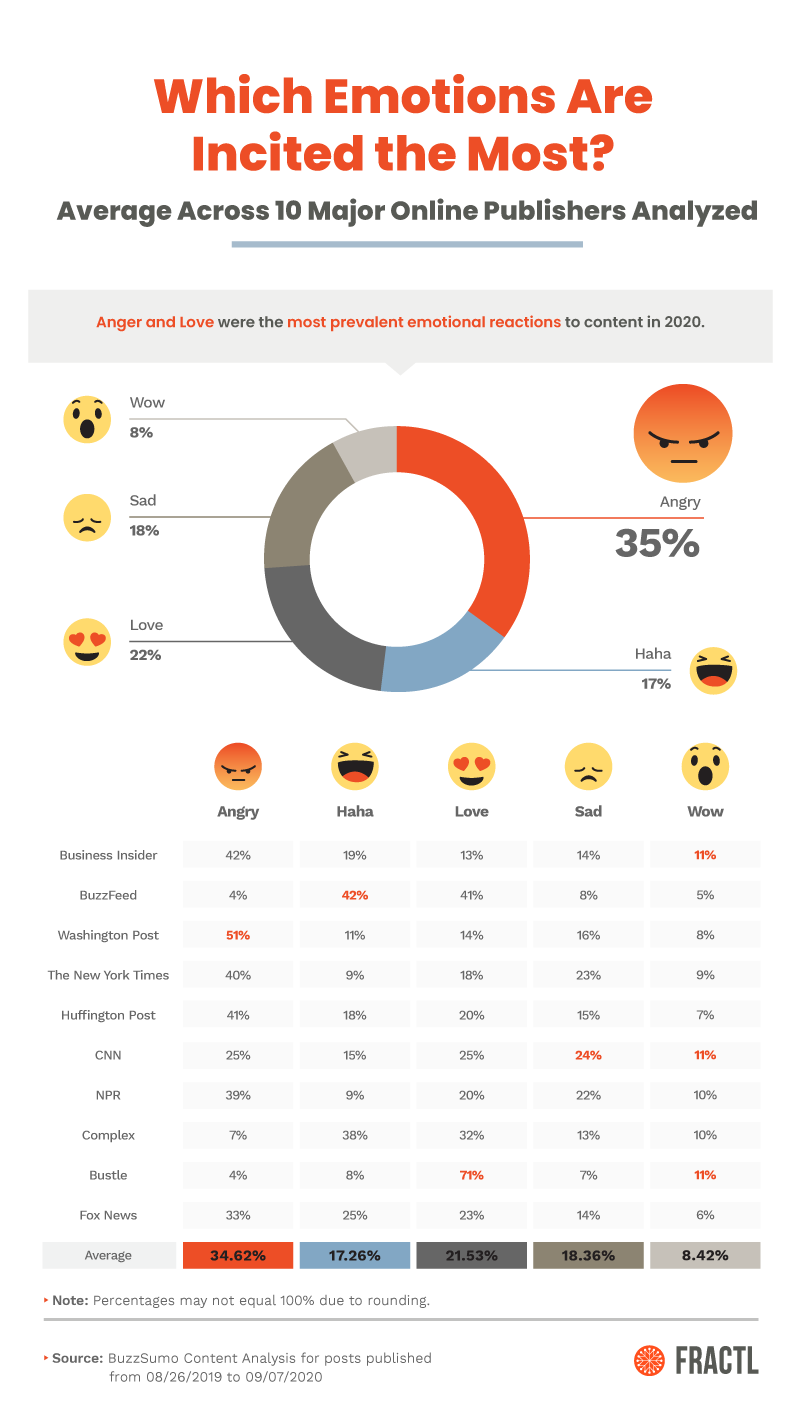 As far as inciting anger in its readers, Business Insider takes the cake of the online publishers we analyzed. 42% of the reactions for their articles in the last year incited anger from their readers. Unsurprisingly, BuzzFeed, our favorite online publisher to take quizzes, elicited the most "haha" or comical reactions from their audience. This makes perfect sense to those of us who have spent mindless hours in college finding out "Which Jonas Brother Are You?"
On the more serious side, CNN incites the most "sad" reactions of any online publishers we analyzed. Given that CNN often covers tragic news stories, their top three most engaged with articles were about two protests and coronavirus coverage.
While publishers should keep in mind that the emotions of "anger" and "love" often lead to more social sharing, content creators and digital PR professionals need to understand the publisher's tone before reaching out.
Our data says that heart-wrenching stories might work better for CNN than for BuzzFeed, so keep that in mind when pitching journalists to cover your content campaigns.
Publisher Analysis Deep-Dive
In the interactive flipbook above, you can learn more about each of the 10 online publishers we analyzed. View the top-performing headlines for each publisher, the highest performing content type, and the most engaging social network.
You can compare the publishers, side by side, in this chart below:
Publishers Compared

Publisher
Most Successful Social Network
Average Engagements per Article
Highest Performing Content-Type
Business Insider

Facebook

2,505

Interview

BuzzFeed

Facebook

2,733

Interview

Washington Post

Facebook

7,244

Interview

NY Times

Facebook

7,226

Interview

Huffington Post

Facebook

13,801

Why Post

CNN

Facebook

13,684

Interview

NPR

Facebook

10,759

Interview

Complex

Facebook

2,778

Podcast

Bustle

Facebook

801

Podcast

Fox News

Facebook

7,262

Interview
Conclusion
It's not always easy to incite emotion with the content you create. The key to creating content that sparks anger, sadness, or laughter is creating content with your audience in mind. What are they already consuming? What are their interests, and what problem can you solve for them with your content?
Content that earns both links and shares isn't always easy to create. Still, by tapping into emotions that resonate with your particular niche, using data to back up your claims, and pitching the correct publishers that align with the tone of your content, you can achieve both links and shares.
Methodology, Limitations, and Fair Use Statement
To collect the data presented above, we used BuzzSumo's content analysis tool to analyze each selected publisher's data over the past year (data collected from August 2019 to September 2020).
A total of 403,166,800 emotional reactions pieces of content were analyzed overall for this study, across ten online publishers shown in the study.
As always, please feel free to share the contents of this study. We just kindly ask that you link back to this page so that your audience can view the findings in full.