Don Draper from "Mad Men" would need to brush up on his math skills if he wanted to succeed in a modern marketing agency. Today's ideal marketer is a hybrid marketer – they need the technical skills of Marie Curie and the artistic genius of Frida Kahlo. Being one-dimensional simply won't cut it anymore, and hiring managers know this to be true when filling content marketing jobs.
We scraped over 3,300 job listings on Indeed.com in May 2016 that included the phrase "content marketing." We found that companies are no longer looking for a technical wizard or intuitive genius – they are looking for a mix of the two.
An Overview of the Content Marketing Job Landscape
There's good news for content marketers' wallets – while the average salary for marketers is $61,000, content marketers make an average of $74,000 annually.
Experience is key. We looked at the minimum level of experience required for content marketers, as well as the highest level of education mentioned by each posting (for education, we did not differentiate between required and preferred experience).
With the astronomical cost of Master's and MBA programs (the average cost for a top 100 MBA program is just under $200,000), content marketers should be relieved to see that many senior-level positions do not prefer candidates to have graduate-level degrees. Rather, experience is more important. For those just breaking into the industry, they should be happy to know that many intern-level positions don't require a specific number of years of experience to apply.
Where are the jobs? Massachusetts is a hot-bed for content marketing jobs, with 37 jobs per 1,000 people, whereas the South falls behind.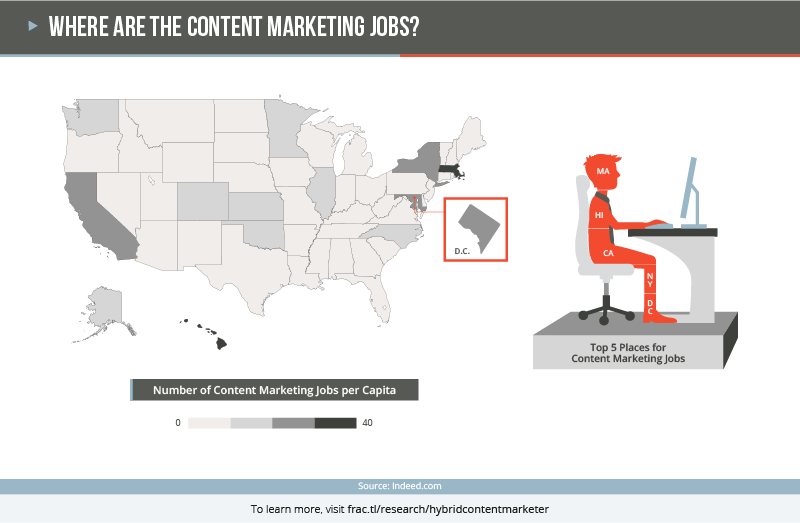 The Hybrid Content Marketer
We were mainly interested in determining whether companies were, in fact, looking for hybrid content marketers – people with a combination of strong technical and creative skills. We found that of the job postings that specified at least one type of skill, 51 percent required the candidate to have both technical and creative skills.
Methodology
We scraped all of the job listings on Indeed.com that included the exact phrase "content marketing." The scrape ran from May 3 to May 6, 2016. After removing duplicates, our data set contained 3,335 jobs, which included both job listings that were already live on the site prior to May 3, as well as those that were posted between the 3rd and the 6th.
Positions were divided into the categories of "Senior," "Junior", and "Intern" based exclusively on job titles. Any job titles that included the words "Manager," "Vice President," "Head," "Lead," "Expert," "Supervisor," or "Senior" were listed as "Senior." Any jobs titles that included the word "Intern" were listed as "Intern," and all other postings were listed as "Junior."
For minimum years of experience required, we searched for any mention of the word "years" in the job description section of each posting. We omitted any number of years in close proximity with the word "preferred," and we used the lowest number mentioned as the minimum years of experience required. Because some positions list years of experience for several competencies, this method may have skewed the required years of experience down, especially for senior-level positions.
Sources
Indeed.com

State Population Numbers:

http://www.census.gov/popest/data/state/totals/2015/index.html