Search engine optimization is one of the pivotal pieces of any digital marketing strategy.
But how many people are actually aware of how rankings are determined and how those rankings can have a monumental impact on businesses?
As SEO professionals ourselves, we decided to explore this question by surveying over 900 Americans on the topic.
Who Knows About SEO?
Of everyone we surveyed, 394 of them were business owners, providing a unique insight on whether people with decision-making power are aware of SEO and its impact.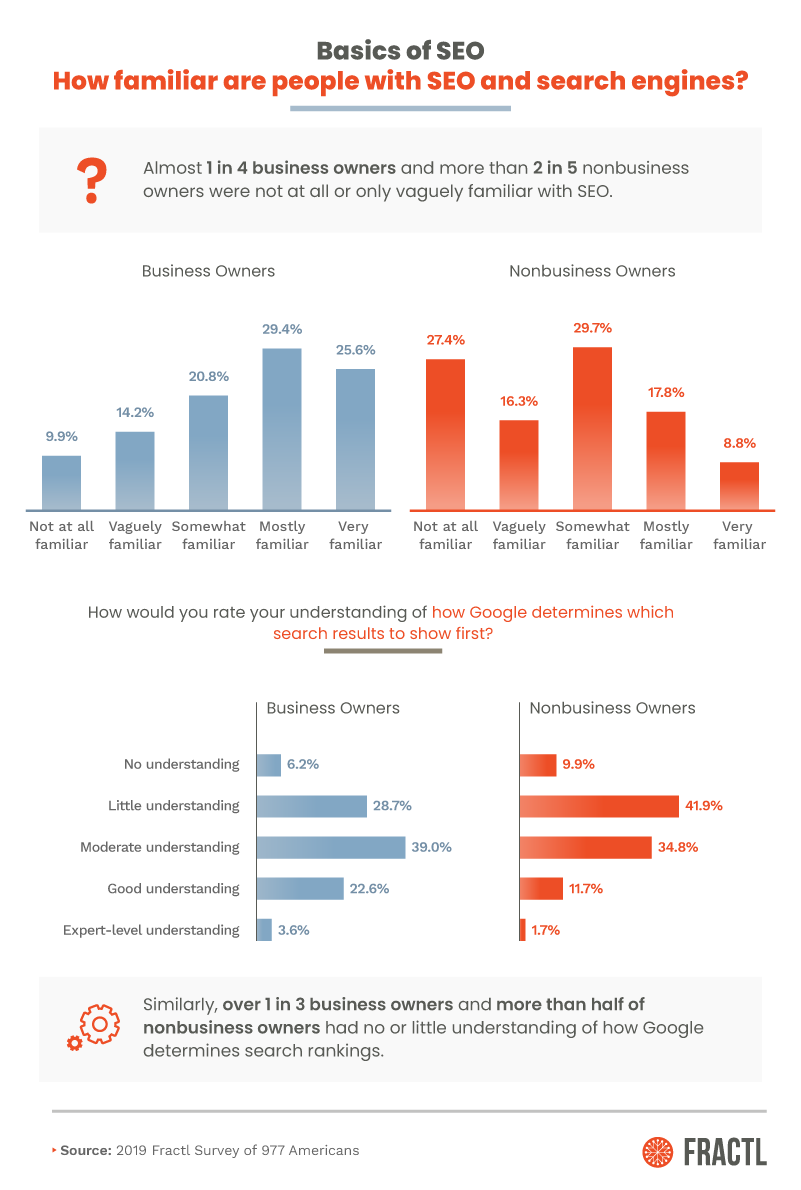 Surprisingly, nearly a quarter of business owners were either vaguely or not at all familiar with SEO. Not only does that mean they might not be implementing the most effective content strategies and optimizing their websites appropriately, but they're also likely missing out on low-hanging fruit, like improving site speed and considering site structure.
The good news is that if they learn about SEO now, they can make leaps in the right direction that will help them against their competitors.
Understanding SEO Lingo
It's one thing to say you know what SEO is. It's another to understand the terms that appear in countless SEO-related conversations.
To get at just how much people truly recognize SEO concepts, we asked participants if they were familiar with a handful of industry buzzwords.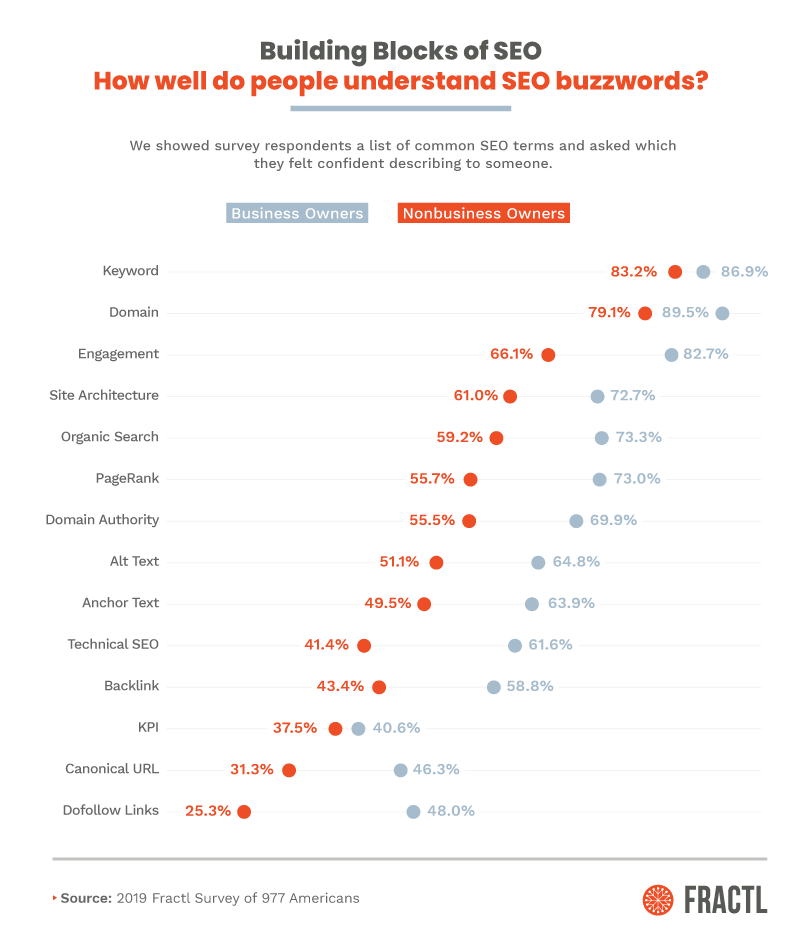 Both business owners and the general public were much more familiar with the concept of keywords than they were with other aspects of SEO, like backlinking. This suggests that while people may realize how Google works on the top level – by typing in keywords and receiving the results that hopefully best match their query – they may not fully understand how Google decides what to rank in those top positions (as backlinks play a major role in that).
Putting SEO Smarts to the Test
We couldn't help but take things one step further. People can say they understand terms and concepts, but we wanted to ask them SEO-related questions and see if they truly did know the answers.
Both business owners and the general public failed our quiz.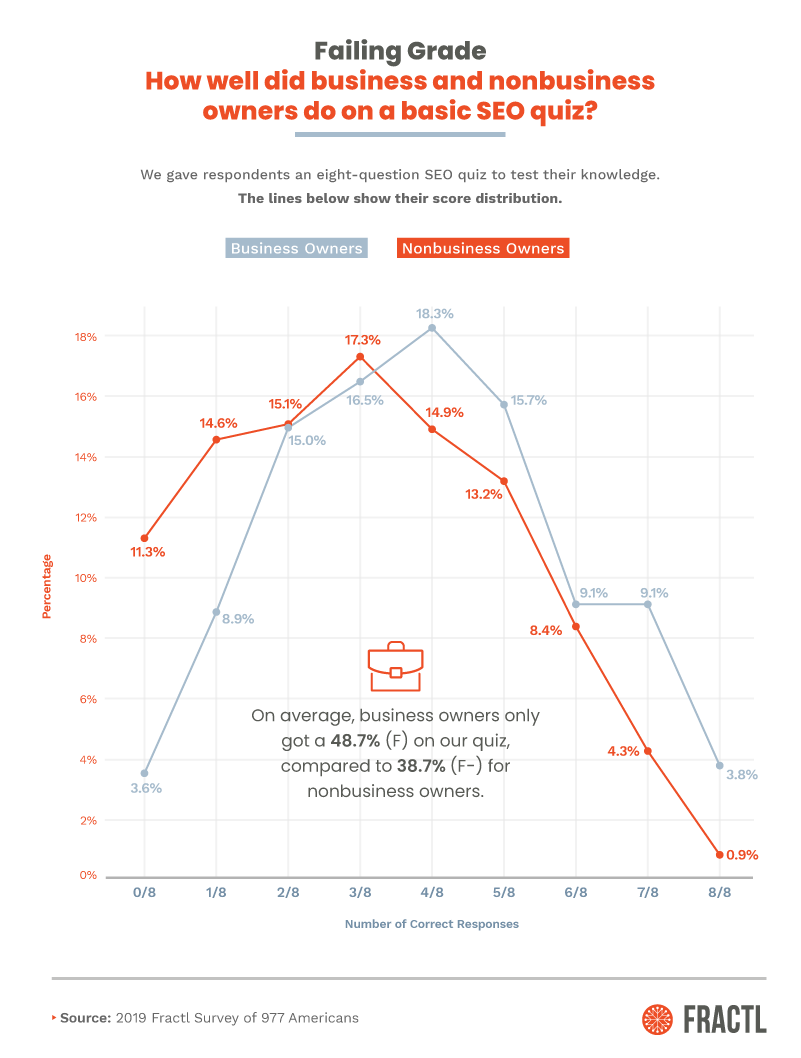 Want to see how you'd do taking the very same quiz? Check it out, and tweet at us if you have any questions or want to chat further!
Once you've finished, you can explore the breakdown of how our survey respondents did.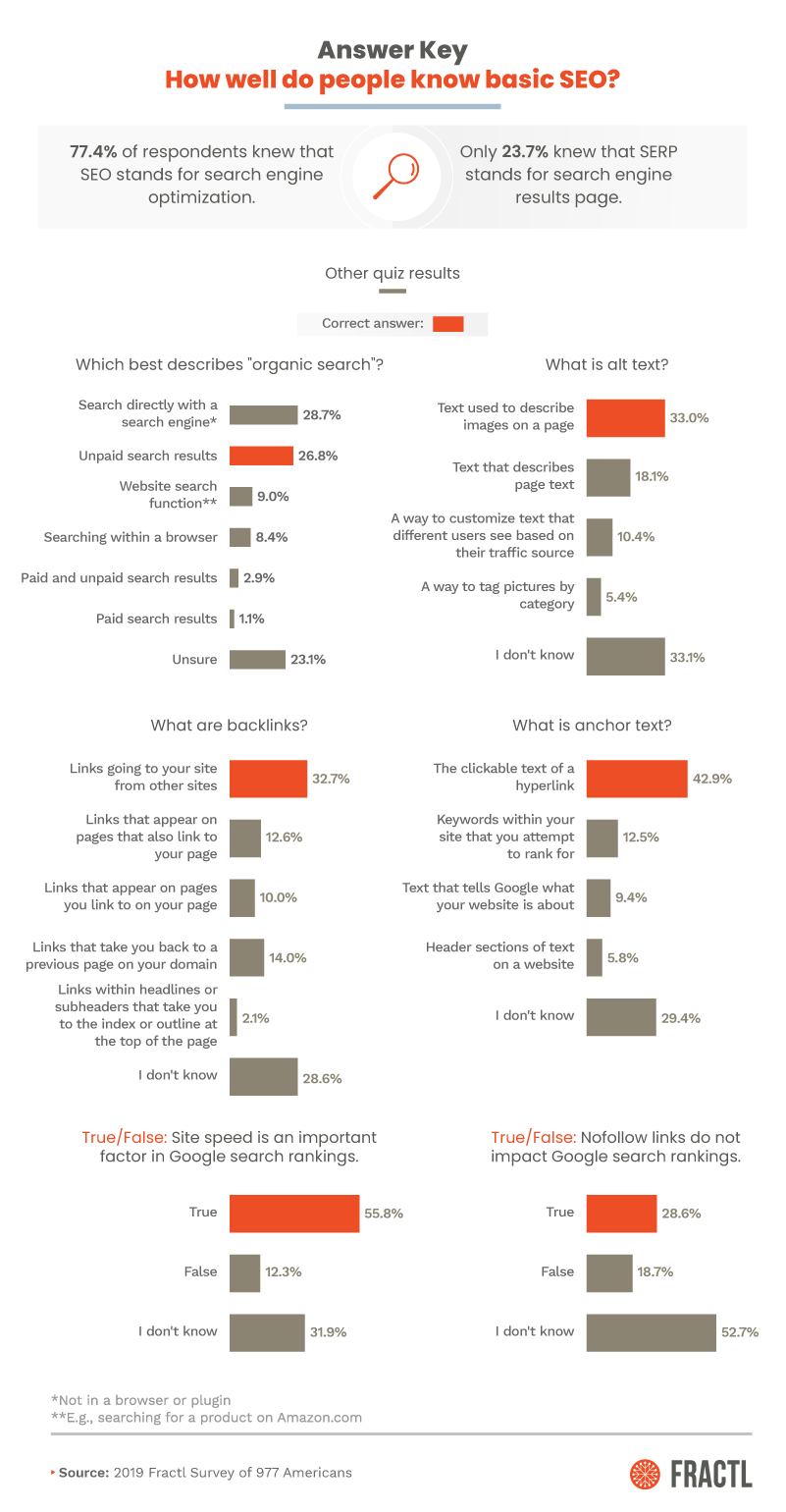 Interestingly, half of the respondents incorrectly guessed what "organic search" means, with another 23.1% saying they didn't know.
Similar confusion occurred for the definition of "backlinks." Nearly 39% of respondents didn't get the answer right, while another 28.6% said they didn't know what the term meant.
Two of the most important concepts in SEO are only understood by about half the population.
Why Does This Matter?
It's easy to take for granted when you search for something and see the results appear. But understanding how it works, what paid results look like, how authority and trust are built, and more helps people become better online content consumers and form a greater understanding of what is "best" and ranks at the top.
SEO for business owners is exceptionally more important – they need to understand how search engines work so they can better rank their own website and get more traffic to their pages.
Since we're in the industry, we've seen how dramatically SEO has positively impacted companies, so we decided to ask our survey respondents if they've seen the same.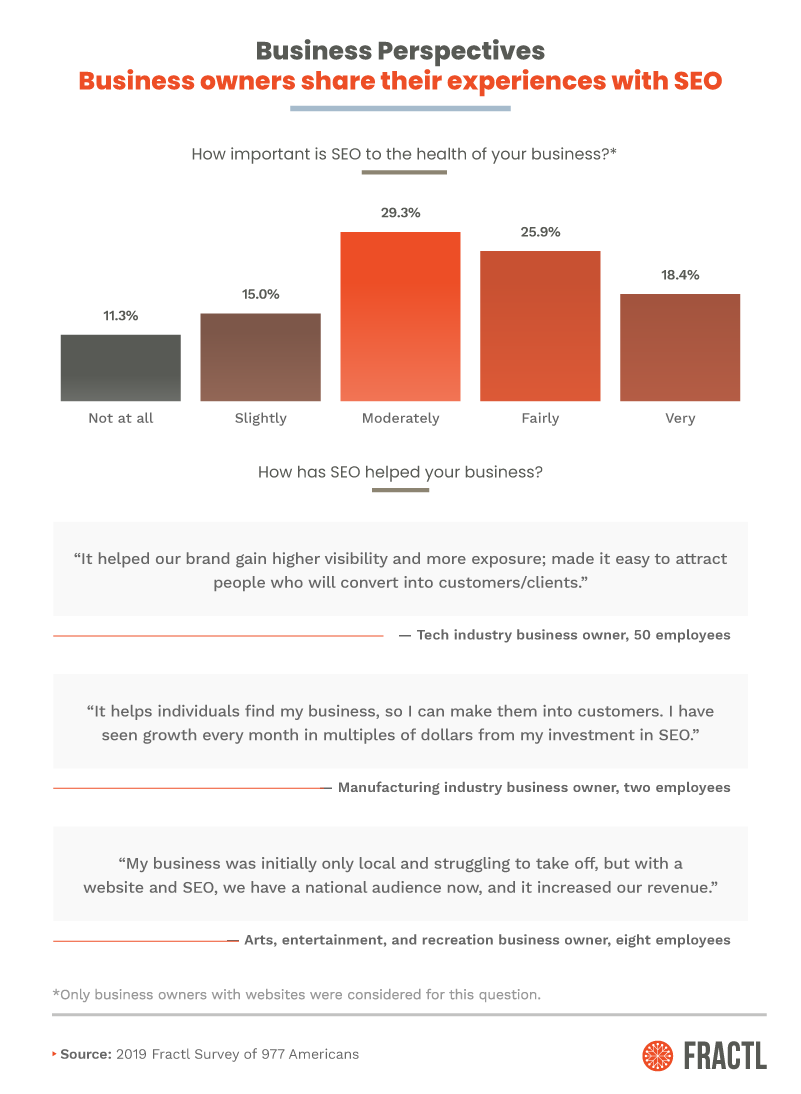 With greater SEO knowledge, companies can see massive gains in their marketing and sales goals and establish a foundation for greater long-term growth.
Methodology and Limitations
To compile the data shown above, we surveyed 977 people on their knowledge about SEO and the meaning behind SEO buzzwords. Of the 977 respondents, 394 were business owners.
We understand that our questions were only a small sample of questions that could indicate SEO knowledge, but we believe they are representative of a general knowledge base.
That said, we don't mean to suggest these are the only ways to prove SEO knowledge. Each of our respondents was given the quiz and told they would not be negatively impacted by their answers. They were also given "I don't know" options on all questions.
Fair Use Statement
Want to share your SEO knowledge? We encourage you to share this piece wherever you choose for noncommercial purposes. We ask only that you post a link to this page when you do and cite Fractl as the authors.