For many companies, it's marketing performance review season! Time to hear constructive, insightful, helpful feedback.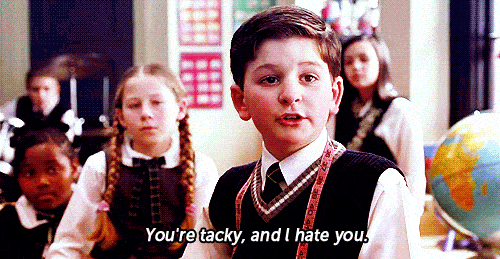 Oh… oh okay.
It can also mean it's time for a self-assessment. A lot of people hate writing about themselves and dread this time of year, but it doesn't have to be that way! How? You can use this midyear point to reflect on what you've accomplished so far and assess how you can improve in the future.

This podcast seeks to answer your questions about content marketing and digital PR with straightforward, actionable tips. You can find all episodes here.
I'll be publishing weekly, so subscribe to stay up-to-date, and stay tuned for special guests in the near future!
Have a marketing question you'd like featured on the show? Email me your question!

Episode 11: How to Take the "Ew" Out of Annual Reviews – Show Notes
This week's question was asked of me by my company during review time:
Whether you're only having the traditional review with your manager or if you're also required to perform a self-assessment, it's important to prepare and assess your past performance.
Step 1: Make a List Of What You've Done… And Didn't Do.
Start simple. What tasks did you complete in the last six months to a year?
Overall, consider the biggest projects you finished. However, if you identify that a lot of little tasks ate up your time without being considered a bigger project or priority, it's good to know this now so that you can try to get those tasks off your plate for the next quarter.
For example, I developed two editorial calendars, worked on a website redesign, and started this podcast (woop)!
To make sure you're not missing anything major, re-read your position description. It's easy to get lost in the day-to-day tasks, so make sure to recall the full scope of your job and how you've succeeded in it.
Need help jogging your memory? (Six months is a long time!) Check past meeting notes, emails, editorial calendars, and any other regularly updated records you keep to remember everything you've completed.
For the tasks you didn't do, consider why you skipped them and if they might be worth reintroducing back onto your priority list. For example, if it was a time or resource issue before, do you have that time and those resources going into the next quarter?
Step 2: Ask Yourself: Did These Accomplishments Meet My Goals?
Now that you have a solid list of everything you got done, it's time to make a list of the goals you had set for yourself. Hopefully you had established particular goals for the last few quarters, but if not, consider the goal of your role. How have your accomplishments helped you, your department, and your company get closer to the goals you're trying to reach?
If you're reading this and panicking, check out the definition of The North Star Metric, a concept used by growth hackers to pinpoint their primary goal in order to achieve growth. This can help you get some perspective on what your actual endgame should be and how you've worked to achieve that.
When you've identified which tasks correspond to which goals, dig into your analytics. What are some quantifiable results you can pull to demonstrate your success? Qualitative analysis has its value, but numbers do a lot of the talking.
For example, a quantifiable analysis would involve discovering if your lead flow increased by a certain percentage; a qualifiable one would involve ascertaining if your lead quality has increased.
Step 3: Consider Who Would Benefit From Your Self-Reflection.
Now that you've looked back on the work you've done and assessed what was the most effective, think about whether someone else at your company might benefit from your reflection.
It might seem strange that I'm suggesting sharing your self-reflection – feels like it should stay with yourself, right? – but actually this is the same kind of looking back you should be doing at least every quarter. And now that you've taken the time to sit down and do it, others could benefit from your findings.
Aside from your manager, maybe your teammates who are working on similar projects should know how different initiatives performed and what worked best for you; it could give them some insight into their own projects.
Or maybe you faced a challenge you were able to overcome, and people new to the company would benefit from seeing how you were able to problem solve.
So read over your reflection, and think: Who might like to hear my perspective?
Have a question you want to submit to the podcast?
Email me at amanda@frac.tl or comment below!
Have any additional insight on marketing performance reviews? Post it in the comments! I'd love to hear your thoughts.