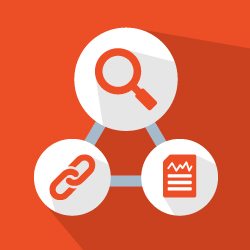 If you're here, you've most likely heard that content marketing can have a major impact on several areas of your business.
One of the primary areas is search engine optimization (SEO), which is a popular goal associated with content marketing strategies.
But you can't set up any content plan and just hope for the best – you have to understand how content marketing can benefit SEO and then optimize your approach to reach these goals.
Some Background…
Before we dig into actionable tips, it's important to understand why we use content marketing to benefit SEO, so you're clear on what we're trying to achieve.
Google has several algorithms at play when deciding how to rank sites, but a March 2016 Q&A revealed the top three considerations:
In this post, we're going to focus on the top two components.
Content means the text, images, etc., on your website. Google analyzes what you publish to get a sense of what your website is about and what questions your website answers. This helps them determine which key terms you should rank for.
Links refer to inbound links, meaning other sites that link back to yours. If another site links back, it's a sign of credibility because they're signifying they trust your information enough to refer to it.
Read on to discover how content marketing can improve these two components and thus boost your SEO efforts.
Consideration No. 1: On-Site Content
We've all heard it before – "content is king" – but it's an industry cliche for a reason. In the eyes of Google, the value you provide as a brand is determined by your content. Yes, there are other factors, but content is certainly one of the biggest.
When considering SEO best practices, you'll see that there are countless ways to audit a site to improve the way Google scrapes the page (from using header tags properly to filling out metadata, etc.). But that's a topic for a different blog post.
While optimizing a site for search engine crawling is crucial, so is making sure your content is useful and relevant to your target audience because Google will determine factors like length, keyword use (and thus, topics explored), and engagement with the content in its analysis.
Plan of Action: Do an audit of your on-site content. Is all of the content valuable? Can visitors read it and be informed and come away with actionable knowledge?
To help identify gaps, take the perspective of your target audience while viewing the site. Consider what questions you might have and whether the website answers them. Make a list of these potential gaps.
Your creative team should perform ideation around these missing topics, and this list of ideas can be a great launching point for your content marketing strategy. The content campaigns can live on your site, and if they're on new pages, that adds more potential pages for Google to index.
As a bonus, if you decide to promote the content, you're also tapping into the next consideration.
Consideration No. 2: Backlink Portfolio
Why is your backlink portfolio important?
When a high-authority website links to your site, some of their authority is passed over to your site. When you get more of these quality links, Google starts to see you more as a trusted resource, and you've moved up in the rankings (which will help increase your organic search traffic).
So the major question you have to ask yourself is:
If you promote the content we talked about in the previous section, you're most likely going to be targeting more relevant, niche audiences and reaching out to industry publishers. There's a lot of benefit in doing that – like increasing brand authority while garnering links – but to also build a diverse link portfolio, there are other content marketing approaches that would work best.
Plan of Action: Analyze your current link portfolio. Ask yourself these questions:
Using the insights gained from answering these questions, brainstorm ideas for the type of content you can create.
However, as opposed to content that's strictly on-site, this content needs to be appealing to a publisher and that publisher's audience, so this has to be a pivotal consideration when deciding which ideas to move forward with.
Once you've identified which content to create, have your outreach team prep lists of publishers who might be interested, and start doing background research on them to create personalized pitches. (This is a whole process in itself – we have a whole department for it here at Fractl.)
It's important to remember that to increase organic traffic – the ultimate goal of SEO efforts – you need a well-rounded SEO strategy. A multi-faceted content marketing plan can help you make significant strides in two of the most important areas: on-site content and the backlink portfolio.
The first step is identifying where you need the most improvement, and then you can move forward with building the best strategy.