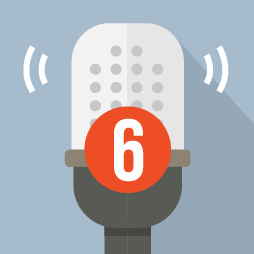 Sometimes you have to go back to the basics to remember why you do any of your work in the first place. So today we talk about the question: What even is content marketing?
In this episode, I'll break down the definition of content marketing and its many forms.

This podcast seeks to answer your questions about content marketing and digital PR with straightforward, actionable tips. You can find all episodes here.
I'll be publishing weekly, so subscribe to stay up-to-date, and stay tuned for more special guests in the near future!
Have a marketing question you'd like featured on the show? Email me your question!

Episode 6: What is Content Marketing? – Show Notes
This week's question comes from a simple Facebook comment, where someone asked me:
Well, What is Content Marketing?
Content marketing is a type of inbound marketing that utilizes content to inform and engage audiences and potential clients and customers.
It's not just about producing high-quality content – you also have to promote that content. These two functions make up the core of content marketing.
Content marketing can be used for every stage of the funnel, so let's talk about each stage.
Top of the Funnel
Example content types: Viral content campaigns, infographics
When you're developing top-of-the-funnel content, your goal is to appeal to mass audiences for general awareness purposes. Reasons to do this include broadening your brand recognition and putting your name out there to people who may have never seen it otherwise.
Because of this, you'll be targeting a large audience. At Fractl, we create data-driven, emotional content to appeal to the largest number of people possible, and then we pitch this content to publishers.
When high-authority publishers cover the story (and mention your brand and link to your site), you get a lot of exposure.
Middle of the Funnel
Example content types: Ebooks, white papers
Middle-of-the-funnel content targets people who are either in your industry or who are interested in your industry and are thus more relevant to your product or service offering. We call this "related awareness," and you'd target these people to give them more details about your work now that they're exploring more within your vertical.
Because of this, you'll be targeting a medium-sized audience. Ebooks, white papers, and other actionable resources work great with these types of audiences.
Once you create the assets, reach out to influencers in your industry who may want to share them or include them in their own blog posts or resources.
NOTE: Blog content is also a huge part of content marketing, and while it generally falls into middle-of-the-funnel, it overlaps with other parts of the funnel, as well. (More on that in the podcast.)
Bottom of the Funnel
Example content types: Case studies, testimonial pages
Bottom-of-the-funnel content is for people who have heard of your brand and are now trying to figure out why your brand is better than the competition. Thus, this content is created for more niche awareness and should position your brand as the No. 1 choice for potential customers/clients.
This will be the smallest audience you target, but also the audience with the highest potential to convert. Case studies, testimonial pages, and other resources that clearly demonstrate the results you've provided in the past work well for this level of the funnel.
You won't be doing too much promotion at this stage, but you do need to strategically place this type of content around your site so that it's placed where it'll be the most effective to those who see it (for example, on your contact page).
Have a question you want to submit to the podcast?
Email me at amanda@frac.tl!
Have any additional insight? Post it below! I'd love to hear your thoughts.