[Tweet "By tapping into what makes a piece of content go viral, you can replicate and apply to your own content strategy—reaching exponentially more people than by only focusing on your onsite content."]
According to Statista's latest estimate, 77 percent of U.S. Americans have a social media profile. Worldwide, the number of social media users has now reached 2.34 billion and is expected to grow to 2.95 billion by 2020.
If you could reach 77% of the U.S. population with a piece of content, would you? While reaching every single user on social media in the U.S. seems impossible, you may be able to get close by pairing your social media strategy with your viral content strategy.
According to a new Pew Research Center survey, about two-thirds of American adults (68%) get some of their news on social media. By tapping into what makes a piece of content go viral, you can replicate and apply to your own content strategy—reaching exponentially more people than by only focusing on your onsite content.
What goals can a viral marketing campaign help you achieve
?
First off, why would anyone want to go viral, anyway? How does going viral contribute to your goals as a business? According to HBR, "successful viral campaigns regularly produce 1 million+ impressions, with standouts garnering 10x to 100x that number, often crossing over into the mainstream, and picking up free exposure on television and radio and in print media." Here are some of the benefits that executing a viral marketing campaign can have on your brand: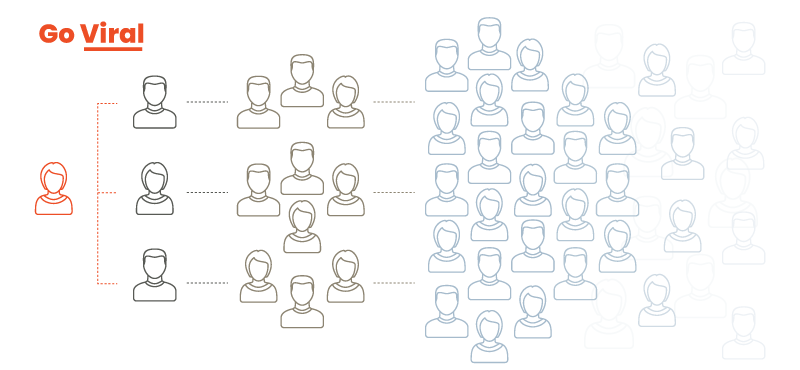 Create massive brand exposure and free press

Generate high levels of social engagement, sharing, and brand interaction

Massively improve organic search rankings

Increase brand engagement
How does social media cause content to go viral?
You might be thinking, "Great, I'd love to get my content in front of 3 billion people! Where do I start?". Unfortunately, there is no way to "force" your content to go viral. Long gone are the days when all you had to do to go viral was record a video of yourself lip-syncing.
While viral content can expand your reach quickly, it's important to have a solid content marketing plan in place. You can try to predict that a winning piece of content you produce will go viral, but there are a lot of factors at play. Sometimes, your "winning content" will fall flat, and seemingly out of nowhere a project that you thought was lackluster will make its way around the internet.
While it's true there is no "exact formula" for viral content, at Fractl, we know what can increase a piece of content's virality and how to leverage those factors in production and promotion to achieve the highest success possible.
So, what makes a successful viral marketing campaign?
Jonah Berger puts it simple terms: "Compelling content hinges on one key detail: its sharability." Your content can't go viral if it's not shareable. So what makes something shareable?
In their book, "Made to Stick: Why Some Ideas Survive and Others Die" Chip and Dan Heath outlined the six components of compelling ideas: Simple, Unexpected, Concrete, Credible, Emotional, and Stories.
At Fractl, we refer to this as the SUCCESS model and use these criteria to optimize our projects right from the get-go to ensure that they are as compelling and shareworthy as possible. Briefly, let's run through the success model.

Simple:

Simple doesn't mean that you have to choose a boring concept, it means that your focus is clearly defined and your audience is able to identify what your project is about at first glance.

Unexpected:

Put shortly, you don't want to tell your readers something they already know. Content with an element of surprise will get your audience sharing.

Concrete:

Content marketing ideas that are too broad or too theoretical will be hard for the audience to grasp. Try to create content that lives in this world, not a theoretical world.

Credible:

At Fractl, all of the content we produce and promote is conducted with extensive, original research. To ensure that content is not only eye-grabbing and entertaining, but also accurate and informative, we assess each campaign through a rigorous methodological lens. We pay particular attention to ethical upholdance, data validity, and fair visual representations. We place an emphasis on sound survey methodologies and real content. By not taking the proper steps to make certain that data sources are accurate, other content marketers are contributing to the fake news epidemic—something that we feel responsible to counteract. If you make any claims that are not backed up by a strong methodology, your whole project will be put into question.

Emotional:

Your content should be designed to elicit some sort of emotional response from an audience. If your audience doesn't

feel something

when consuming your content, why would they share it?

Stories

Finally, the campaign has to be something that you would tell your friends about.

A study by Fractl

on Facebook sharing motivation found that the most popular reason (at 48 percent) of sharing content was to entertain their friends. If you don't find it interesting, chances are no one will.
The Most Effective Social Media Platforms for Viral Marketing
I'm a:

⚪️ man
⚪️ woman
🔘 brand

Seeking:

⚪️ men
⚪️ women
🔘 retweets and attention

— MoonPie (@MoonPie) August 23, 2017
So, which platform should you leverage when executing a viral marketing strategy? The answer to that depends largely on the content you're creating and the industry of your niche. Each social media platform has its own unique community of users. When it comes to what types of content thrive, each platform is distinct in its audience and its reach.
What works well on Instagram may not work well on Twitter, and what works well on Twitter may not work well on Linkedin. Before creating content, choose a platform on which to specialize.
That being said, here is something to keep in mind:
Facebook
Consider that Facebook was originally founded with the mission of connecting people. Also consider it's slogan (yes, Facebook does have a slogan) "Facebook is a social utility that connects you with the people around you." When creating content designed to go viral on Facebook, focus on authenticity. Create content that users will share friend-to-friend. Be authentic, be real, be you, and the engagement will come.
Statistics to consider:
Facebook has more users than any other social network—2.07 billion monthly active users, to be exact (

Hootsuite

).

Nearly half of U.S. adults—45 percent—use Facebook to get their news, according to Pew Research (

Hootsuite

).
Twitter
"It's what's happening" (in 280 characters or less). People get their news from Twitter. Journalists and news organizations are the largest, most active verified group on Twitter. Consider amplifying your content marketing campaigns that have newsworthy headlines on Twitter. Also, Twitter is great hub for humor. Headlines with a light or surprising tone do well on Twitter. The example below is from a content marketing campaign Fractl executed on behalf of one of our clients. Through our expert media outreach, this campaign originally placed on CNBC and quickly syndicated to news sites across the web, eventually landing it at NBC Bay Area. As you can see, @ziwe used humor in her retweet and quickly gained a lot of attention.
32% of millennial would break their own legs for a $37,000 raise. https://t.co/iyCvOPWzRe

— Ziwe (@ziwe) February 27, 2018
Statistics to consider:
Instagram
They say a picture is worth a thousand words, and that's especially true for Instagram, a platform focused primarily on the visual. Anything going viral on Instagram has to have a strong visual element to it. You can use viral content to build your business account, but depending on your goals, it may not be worth the time and energy. Instagram only allows you to feature a single link to your website in your bio, so the return on investment may not be there. If you're hoping for brand exposure or to sell a product through Instagram ads, though, the platform can be incredibly useful. The key factor in using IG to go viral is by finding or creating content that is in-line with your brand or message.
Statistics to consider:
LinkedIn
LinkedIn may not be the first platform you think of when you picture "viral success" but I wouldn't count it out entirely. Publishing on LinkedIn has its own benefits— ideally, your customers and clients are already using LinkedIn to stay up-to-date on news, industry trends, resources, employees, and vendors. Meet them where they're at by creating content marketing campaigns with LinkedIn in mind!
Statistics to consider:
Every month, approximately 106 million users log on and engage with content they find on the site (

Hootsuite

)

Not only that, but over 75 percent of LinkedIn users have incomes of over $50,000. This means that these are people you want your message to reach. (

Hootsuite

)

A full 50 percent of B2B buyers use LinkedIn when making purchasing decisions, with 76 percent preferring to use recommendations from their professional networks, the site is essentially "built for social selling."

(

Hootsuite

)
Pinterest
Pinterest is often overlooked as a social media platform that can be paired with your content strategy simply because it's a behemoth of a platform. There are currently 100 billion pins on Pinterest and that number rises every day. That number alone may be enough to scare you into ignoring Pinterest for your business goals.
That being said, around five percent of all website referral traffic comes from Pinterest. Combine those two facts with this: Seventy-three percent of Pinners say that content from brands makes Pinterest more useful. With that in mind, it may be worth devoting some resources into your Pinterest strategy.
Statistics to consider:
How does Fractl leverage social media to make content go viral for our clients?
Viral social sharing increases visibility, incites user interaction, and gets content in front of a mass audience through perpetual virality.
While there is no exact formula for guaranteed virality, years of experience and thousands of content marketing campaigns have helped us narrow down the key variables in the elusive viral equation. Source
Read more about our viral equation here.
Perceptions of Perfection Case Study
At Fractl, we're no stranger to reaching virality. Take one of our favorite case studies for example: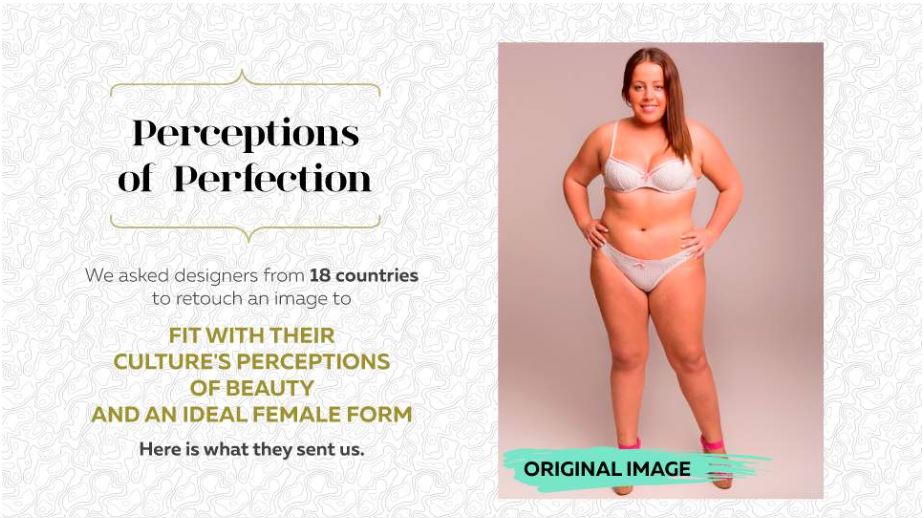 In Superdrug.com's Perception of Perfection, we asked graphic designers from 18 countries around the world to Photoshop the same model's body by making her more attractive according to their country's beauty standards. A simple idea, right?
By using graphic visualizations from 18 different countries (this technique is called geo-bait) to tell a human story that everyone can emotionally resonate with (body image), we were able to earn organic placements on top-tier publishers in a matter of hours. After that, viral success was achieved with very little work on our part- sharing was contagious, and we earned an additional 400 placements in less than a week. We even earned mentions from Sofia Vergara and Lil Wayne.
This campaign earned
Nearly 600 pickups, including initial placements with

BuzzFeed

and

The Huffington Post

Extensive international coverage, including

Business Insider Australia

,

CNN Espanol

, six additional versions of The Huffington Post, and even a featured mention on a Canadian morning show.

More than 3 million views from the BuzzFeed feature alone

Close to 1 million social shares, with nearly 20 percent coming from

on-site shares

Celebrity endorsements, including

Sofia Vergara

and Lil Wayne

In less than a week, the campaign earned placements with

The New York Times

,

Yahoo

,

Mashable

,

Bustle

,

Mic

,

Business Insider

,

Gizmodo

,

Marie Claire

,

E! Online

, and

The Telegraph
Presenting (1) emotionally charged data (2) that the mass population could relate (3) in a simple and visually appealing way made our campaign strike a chord with publishers and audiences. For SuperDrug, that meant nearly 600 pickups, more than 900,000 social shares, and just shy of 700,000 page views – a significant surge in brand awareness and authority. Source
The importance/role of social media in viral marketing campaigns
At Fractl, we leverage social media to make content go viral for our clients. We also believe you need content that is 10 times better than what's currently out there to achieve a robust backlink portfolio.
Read more about our link building services here and view viral marketing case studies here.