Episode 3 features our very first guest: Gayane Margaryan, the digital marketing manager at the African Wildlife Foundation, who discusses the impact of emotional marketing strategies.
In honor of her organization, here is a gif of my favorite animal being the cutest ever.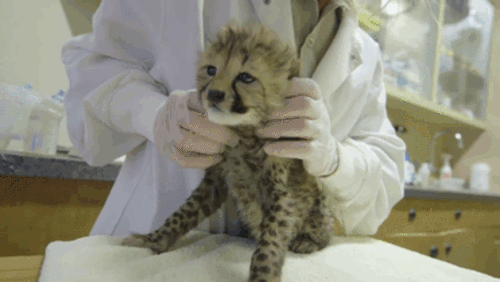 In this episode, Gayane and I discuss the concept of marketing a feeling and building a community, rather than simply trying to sell a product or service.

This podcast seeks to answer your questions about content marketing and digital PR with straightforward, actionable tips. You can find all episodes here.
I'll be publishing weekly, so subscribe to stay up-to-date, and stay tuned for more special guests in the near future!
Have a marketing question you'd like featured on the show? Email me your question!

Episode 3: How Emotional Marketing Strategies Built a Nonprofit's Brand Community – Show Notes
This week, we switched things up a bit, and I asked Gayane a question. The African Wildlife Foundation (AWF) just became a client of Fractl's, and I was interested in learning more about what they'd learned from having a marketing department that's fused together with their fundraising efforts. I asked:
Mentioned Links / Additional Resources:
Marketing a "Feeling"
Gayane made the point that at AWF, a lot of their marketing is about a feeling rather than a product or service. When people donate to a cause they believe in, they feel good about contributing – and it's this feeling Gayane tries to tap into.
We discuss how this applies to brands that sell products, as well, like Apple. While people purchase Apple products because of their quality, a lot of people also purchase them because they like the brand's story; they want to be the innovative, hip Apple consumer that's portrayed in Apple's advertising and marketing.
Nurturing this "feeling" is done by consistently creating content, and not just any content – content that has an emotional impact.
Communicating With Your Audience
The content you create should be done with the purpose of continuing to tell your brand's story and engaging your audience. In the case of a nonprofit, your responsibility is to continue to update your donors on your organization's progress, detailing any current efforts – including successes and failures.
This type of communication helps solidify a partnership that allows people to see how they're involved with the overall mission.
It's also your brand's responsibility to keep consumers or donors updated on what the brand is working on now that they might be interested in it. You should also be publishing thought leadership about your industry, because if your audience can't turn to you for this information, they'll turn to someone else.
Building a Community
You should have a mix of communication methods when it comes to connecting with your audience – whether that's email marketing, social, and more – but Gayane says the important thing is that you're where your audience is.
Transparency and openness are key, as well. Consider how you can open channels of communication with your consumers or donors, and they'll feel like they're part of a bigger community, both with other consumers/donors and with the brand. As Gayane notes, most people want to have human connections, even when reaching out to a brand, so make sure those avenues are available.
Finally, Gayane says there's no sense in building a community if you don't intend on listening to it. So no matter how big your organization is, make sure you're still somehow tuned in to what your consumers or donors are saying about their interactions with you and what they'd like to see in the future.
Have a question you want to submit to the podcast?
Email me at amanda@frac.tl!
Have any additional insight you'd like to add to the discussion? Post it below! I'd love to hear your thoughts.