[Tweet "This is one of the most exciting benefits of digital PR. When you invest in creating newsworthy content, many more writers will be interested in what you've produced if it's new information and would provide value to their audiences."]
Link building has been a common strategy for digital marketers for years. The practice, which involves generating links to your site to increase your site's authority, can greatly improve your rankings in search.
However, a strategy called digital PR manages to build strong links while also building brand awareness — or getting your company or organization's name out there and increasing recognition.
Digital PR involves creating original, quality content and pitching it to online publishers, with your brand being cited as the source of the information. There is a focus on high-caliber content, but also on building authentic relationships with writers and editors.
So what results can digital PR get you that benefit search engine optimization (SEO), and why should you care?
Let's explore further.
You Get Better Links
This is one of the most exciting benefits of digital PR. When you invest in creating newsworthy content, many more writers will be interested in what you've produced if it's new information and would provide value to their audiences.

The following tenets of digital PR have to be present in order to accomplish this:
Emotional content

that is directly related to the writer's audience

Personalized pitch emails that show you've done your research on what the writer likes to cover and what their readers would appreciate

A pitch email that succinctly sums up the key takeaways from the content that are of interest to them

The offer of exclusivity to the first people you pitch to add the extra perk of being the ones to "break" the story
When you have a digital PR strategy that encompasses these elements, your content campaign can get traction unlike any you've received before. If you're able to secure coverage on a top-tier site, it can even spread naturally across a series of other sites, making your job exponentially easier.
An example is the Sex Fears campaign we created for our client Superdrug Online Doctor. We surveyed 2,000 people to find out what their biggest fears related to sex were and reported on the results.
This campaign was featured on a variety of sites, including Yahoo!, Maxim, Bustle, Good Housekeeping, Health, Esquire, Elite Daily, and more — a very difficult feat when you don't have great content to pitch and digital PR specialists who know how to build connections with writers.
You Get More Diverse Links
Sure, link building gets you different kinds of links, often from the low- to mid-level of domain authority. But as mentioned in the previous section, digital PR has the added bonus of acquiring the hard-to-reach top-tier links.
Once you've secured those, a process called natural syndication occurs. Many of these sites have syndication networks that pick up stories authoritative publishers post. That means that getting a few of those impressive media placements can get you many more links you didn't have to work for. Dofollow links are the most sought-after, as they have a high impact on your authority, but remember that all link types carry some value.
And, because you're earning media coverage this way and adding to your backlink portfolio organically, you end up with a much healthier mix of links, which Google considers a reflection of natural conversations happening about your brand and your brand's content, further strengthening the validity of your backlink portfolio and your marketing efforts.
You Generate More Brand Mentions
It's always a little disappointing when people talk about your brand and don't link, but it's not a total waste. Conversations around your brand, even ones that don't involve links, can provide value in a couple of ways.
Firstly, it's still a brand mention, meaning people reading the piece will see the name of your company or organization. While sometimes that might not seem as exciting as building links, it still means there's increased awareness around who you are, and depending on the context of how you're mentioned, you can be slowly building authority by being mentioned regarding topics you specialize in.
Perhaps most importantly, especially for those of you focused on SEO, some believe brand mentions are a signal in Google's algorithm. According to Search Engine Land: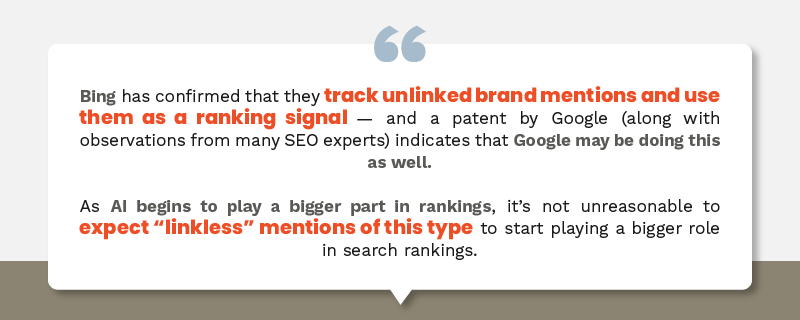 The nature of link building means you don't get any of these bonus brand mentions, which is why a more holistic approach to SEO can be more valuable for you.
You Build More Long-Term Authority
Even little benefits over time start to compound into something that makes all the effort worth it — ongoing authority. Pitching great content — instead of just pitching a blog post or your site's homepage — allows you to better position yourself as experts who create engaging, data-driven content and are worth hearing from.
Even those unlinked mentions are micro-reminders that remind the readers of your brand and that you're a continued part of the conversations they're reading. It's difficult to track this, and as frustrating as that is for results-driven marketers (understandably), that doesn't mean that the impact and the benefit isn't there in the long-run.
All-in-all, digital PR does not only achieve top-tier coverage, hundreds of backlinks, and thousands of social shares for your content, it also has the added benefit of improving Google search ranking by accumulating press mentions and backlinks on high-authority websites while simultaneously making you a bigger part of relevant conversations. Instead of having a strategy focused solely on one-off link building, consider a plan that gets you multiple benefits for the effort and time your team puts into marketing.