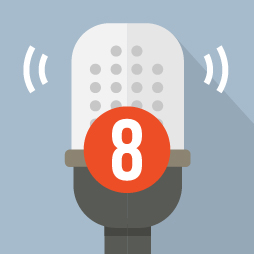 Back from vacation and rocking a head cold, but the show must go on!
And by "Valentino," I mean "T.J.Maxx."
This week, I talk about what actually goes into creating a successful content campaign in terms of process and timeline, so if you'd love more insight in that area, this is a can't-miss episode about the content development process.

This podcast seeks to answer your questions about content marketing and digital PR with straightforward, actionable tips. You can find all episodes here.
I'll be publishing weekly, so subscribe to stay up-to-date, and stay tuned for more special guests in the near future!
Have a marketing question you'd like featured on the show? Email me your question!

Episode 8: An Inside Look at the Content Development Process – Show Notes
This week's question comes from content executive Scott Taylor. He emailed:
Content Production
The first thing you have to do is set up the appropriate internal expectations. This will help you develop a project timeline that is sensible and achievable, giving your team confidence in completing the content campaign successfully.
Each campaign will have similar steps, but the proportion of time spent on each step will vary based on the idea and its scope. To create quality content, you will have all of the following steps:
Idea generation
Data gathering/research
Data/research analysis
Outline creation
Writing/design/development
Quality assurance/editing
If a campaign involves extensive data collection and analysis, expect to put more time in this part of the process. If you plan on creating an interactive graphic, the actual design and coding will take up the majority of the time.
Once you have a solid estimate of what resources you need and how long it'll take to produce the content, you need to set the appropriate expectations with your client or higher-ups in your company. You do this in two ways:
Education: Explain the reasoning behind the ETA and provide details about each stage of the projects and the timeline flexibility necessary to create good work.
Communication: Nothing builds trust and understanding like communication. At the very least, provide status updates at each new major stage of the production process.
Content Promotion
The truth here is this timeline will vary dramatically based on your goals and the type of content you've created (like how general or on-brand it is).
A lot of it comes down to your strategy, as well. Paid promotions is easier to control, but if you do personalized outreach like we do at Fractl, a lot of it revolves around whether you're pitching for an exclusive placement or not.
An exclusive placement means the publisher is the first to publish the new data/information you're providing to them. This value means they're more likely to run the story. We call all outreach after the exclusive goes live the "syndication process."
Emailing writers regarding the exclusive takes up to two weeks, and that time investment is crucial to succeeding in this strategy. How long you spend on the syndication portion will depend on how much natural syndication occurs from the exclusive coverage. (Some sites have more built-in natural syndication than others.)
Ultimately, how long you spend promoting something should come down to the conversation you had with your client about what success looks like and your team's expertise on whether the content has more potential to be picked up by media sites.
Have a question you want to submit to the podcast?
Email me at amanda@frac.tl or comment below!
Have any additional insight for Scott? Post it in the comments! I'd love to hear your thoughts.