Our agency doesn't just benefit our clients through content marketing — we also employ the same tactics for our own brand marketing efforts.
As you'll see in this B2B lead generation case study, content marketing has played a significant role in growing our business, specifically by attracting new leads, which is the primary goal of our own content marketing efforts.
Since launching this strategy in 2014, we've seen the following results:
667% increase in annual lead volume

More than 1,400 media pickups and 390,000 social shares
And our campaigns have been covered on: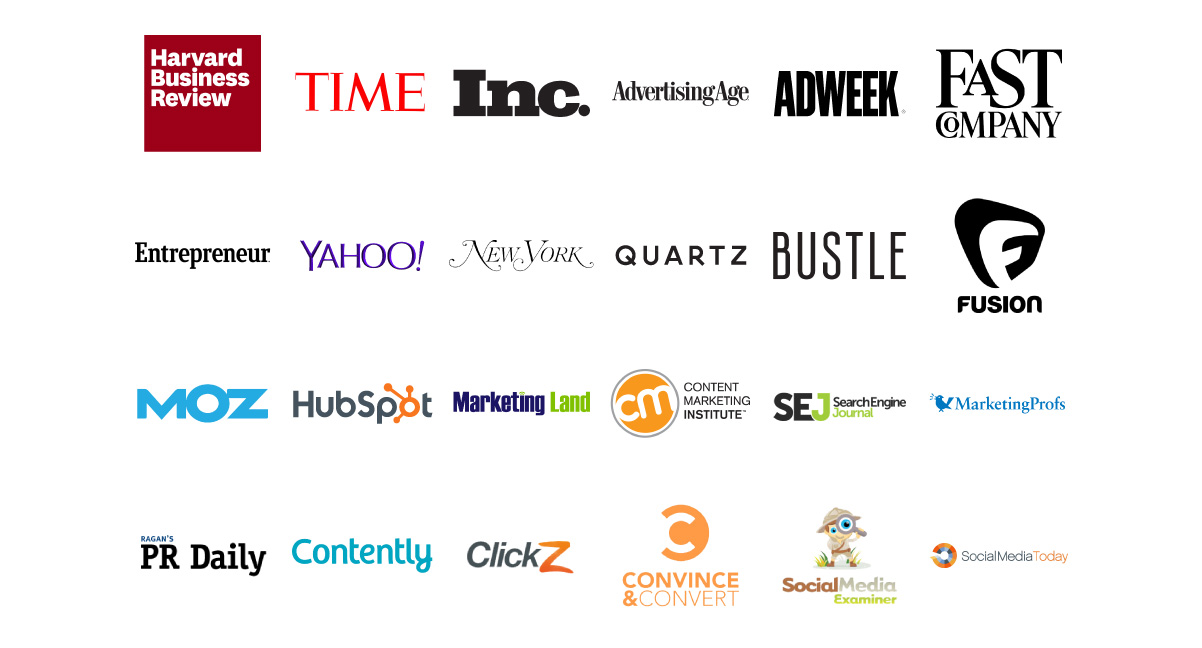 So why did we take the integrated content marketing campaign approach?
How Content Marketing Increases Awareness, Builds Authority, and Attracts Leads
Getting in front of our target audience – marketing decision makers – was key for achieving our goal of lead generation. As a new agency, we didn't yet have an established audience.
In order to reach our target audience, we needed to get published on authoritative marketing websites that already had a dedicated following of the types of marketers we wanted to reach.
Firsthand Research Appeals to Marketing Publishers and Audiences
We knew in order to regularly attract coverage on marketing sites and earn the attention and trust of seasoned marketers, we'd have to rise above the abundance of "me too" marketing content and say something new.
How could we accomplish this?
By producing content based on original research and featuring fresh insights on the digital marketing industry.
As we'd seen with our clients, publishers in all industries want fresh, original data that's relevant to their audiences, so we knew taking a research-driven approach could gain coverage on leading marketing websites. Furthermore, we knew our target audience of marketing decision makers is always on the hunt for new industry trends and data-informed actionable tips.
In a nutshell, here's what our research-driven content marketing strategy looks like:

After more than two years of this approach, our campaigns have earned more than 1,400 media mentions.
Our Research Campaign Topics Align With Our Goals
Our research campaigns fall under two categories designed to achieve different goals: awareness and conversion.
Awareness campaigns focus on getting our brand in front of a large audience.
These campaigns focus on general marketing and business topics that appeal to a wider audience beyond our target persona.
The aim is to get in front of more people to help improve our brand recognition. We consider these campaigns successful if they receive a high volume of coverage on a variety of sites (ex. marketing, business, general interest sites) and social shares.
While these types of campaigns may not have as much of a direct impact on lead generation improvements, they do increase our general brand authority, which can improve the chances of a consumer of our content converting down the line.
Building trust in an industry is crucial to creating meaningful connections with potential clients.
For awareness campaigns, we come with topics that are:
Related to the work we do, without being directly about it

Interesting to both marketing professionals and the general public

Appealing to both marketing publishers and more general sites
Example: Facebook Sharing Habits and Motivations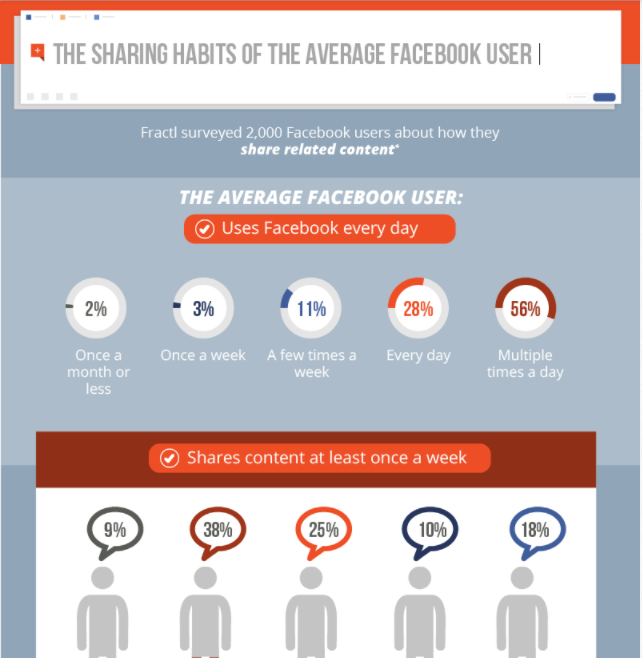 For this campaign, we surveyed 2,000 Facebook users to find out how and why they share content on Facebook. Focusing on Facebook would mean broad reach for the campaign; our idea appealed not only to marketers looking to optimize their content for Facebook sharing, but also was of interest to the average Facebook user who might be curious about why people choose to share certain things.
We ended up with a lot of interesting data from our survey, so we split our research into two campaigns (in the past we've found that cramming too much data into one campaign can overwhelm publishers and readers).
One campaign focused on how and what people share on Facebook and the other campaign focused on why people share on Facebook. These two campaigns earned more than 100 media pickups combined, including pickups from Adweek, Yahoo!, CIO.com, Social Media Today, and MarketingProfs.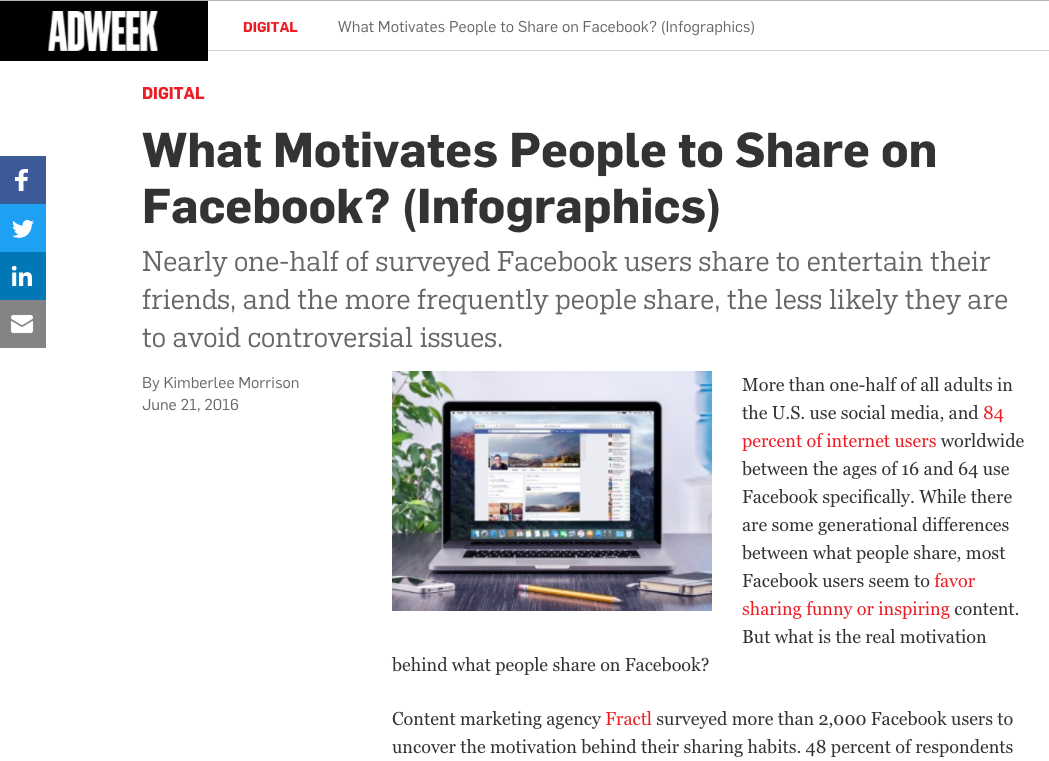 If you'd like additional examples of successful awareness campaigns, explore these projects:
Conversion campaigns are closely tied to our service offering with a primary goal of driving new leads.
Typically, these campaigns offer actionable insights around content marketing, PR, and viral marketing, all of which directly tie back to the services we offer at Fractl. We consider these campaigns successful if they drive interest in our business, which we measure in new lead volume.
For conversion campaigns, we choose topics that are:
Closely-tied to our service offering

Relevant to the needs and interests of our target audience

Appealing to niche marketing publications that our target audience reads
Example: The Reach, Engagement, and ROI of Content Marketing vs. Native Advertising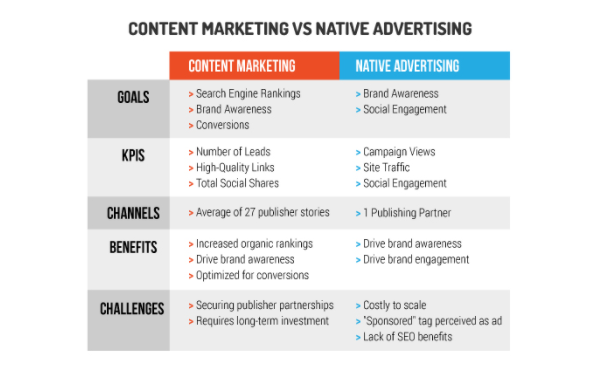 For this campaign, we explored the cost effectiveness of content marketing compared to native advertising. To collect timely, relevant data we conducted a survey of content marketing agencies to determine industry benchmarks and partnered with another company, Relevance, to obtain their internal data on native advertising costs.
The campaign was a hit, earning nearly 19,000 social shares and 85 media stories including coverage on high authority sites such as Harvard Business Review, Inc, Moz, and Adweek.

Most notably, the campaign sparked a lot of interest in working with Fractl. To date, this is our most successful campaign in terms of lead generation, and we signed 5 new clients from this campaign.
Why was this topic so good at driving leads and new business? For marketers torn between investing in content marketing and native advertising, our research may have helped them confidently proceed with content marketing after seeing its relative affordability and effectiveness.
Here are a few more examples of successful conversion campaigns:
What 345 Content Marketing Campaigns Can Teach You About Earning Links:

We analyzed data from hundreds of our client campaigns to determine commonalities among our most and least successful campaigns.

Three new clients

found us through this campaign.

The Efficacy of Inbound Marketing vs. Outbound Marketing:

As we saw in the Content Marketing vs. Native Advertising campaign, comparing the cost and effectiveness of different marketing tactics proved to be effective for lead generation. This campaign was great for both conversions and awareness:

two clients

signed with us after seeing this campaign and it earned

more than 250 placements

.

What 1,300 Publishers Want From Your PR Pitches: To learn more about what writers actually want to publish, we decided to ask them directly. Our publisher survey revealed key, actionable insights marketers valued, and it lead to 6 new leads for Fractl.
Customized Outreach Plans Increase Our Success Rates
When we're ready to start promoting the quality content we create, we make a list of all the ideal publications we'd like to be featured on throughout our overall marketing strategy.
But that's where the general approach stops. For each content campaign we produce, we consider which publication would be the best match for the information we're featuring. We ask ourselves: Which audiences would most benefit from this data? Which writers want to cover this material most?
Then we send personalized pitch emails to the most appropriate writers at those publications – writers who have published on similar topics and who have high engagement on their articles.
To see an example of a successful, personalized pitch email, here's a real one we went to a publisher (who ended up writing about our content):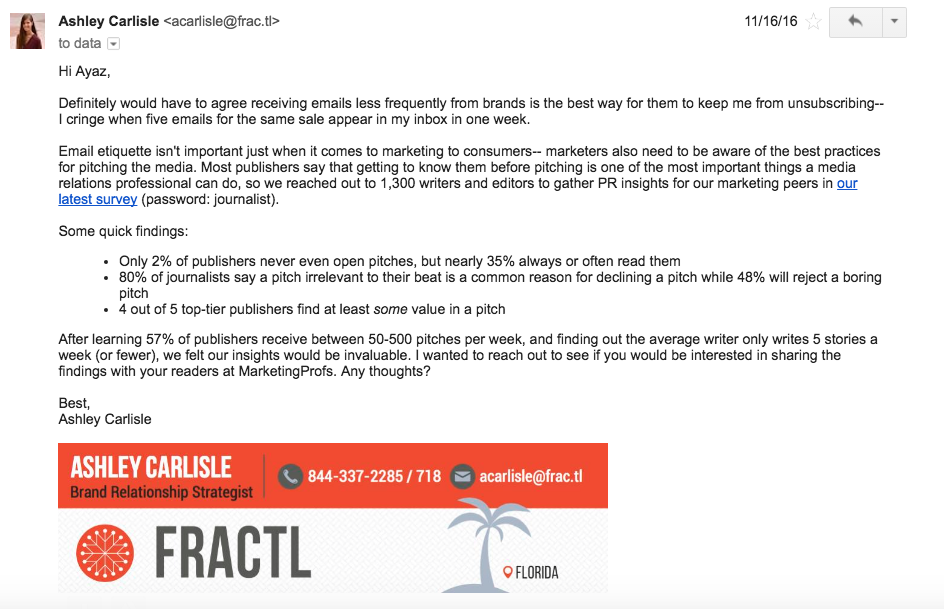 All of our previous media coverage (and all of our pitch attempts) inform our current strategy. We track all of the following to improve both our content creation and our outreach tactics:
What kind of engagement did each instance of media coverage get?

Did we get any syndicated coverage as a result of that media placement?

How many leads did we get from each media mention?
Then we consider what type of content and which publications lead to the various results of the three questions above. That way, we can determine which content styles and media sites help us drive the most leads.
And when you put in that kind of work, you get responses from writers like this one from The Next Web:

Additional Benefits of Our Integrated Content Marketing Campaign Efforts
Our content campaigns have done far more than accomplish our primary goals of lead generation and awareness. It's helped established our company and team members as thought leaders in the field. Growing our reputation as marketing innovators and thought leaders has brought a handful of other benefits, including: