From building brand awareness and engaging an audience to collecting leads and growing sales, content marketing has a variety of benefits. But while the list of pros is long, most of content marketing's outcomes are based on two things: increasing search engine rankings and website traffic.
Improving your position in search rankings and drawing more traffic back to your website are what set most of the other benefits of content marketing in motion.
So let's look at why these results are so important and how you can improve their impact through strategic content marketing.
Content Marketing Factors That Increase Search Rankings
When you engage in effective content marketing, you improve the search rankings of your website. It appears higher on search engine results pages (SERPs), begins to rank for more terms, and grows your brand's overall online visibility.
We know that content marketing impacts your place on SERPs because Google told us so.
In March of 2016, Webpromo.expert held a Q&A with Andrey Lipattsev, a Search Quality Senior Strategist at Google Ireland. During that interview, Lipattsev revealed that Google uses three main factors to determine search engine results.
Top Three Search Engine Factors According to Google
Links:

The links that appear on third-party websites and lead back to your website.

Content:

The words, images, and code that appear on your website.

RankBrain:

Google's artificial intelligence

program that is continually teaching itself how process search engine results.
The top two factors – links and content – are directly connected to content marketing.
But simply creating content and getting links isn't enough to give you a boost in search engine results. Other factors determine how much links and content impact your ranking.
The Volume and Quality of Sites Linking to You
The number of unique domains linking to your site impacts your visibility in search. The more unique domains linking back to your website, the higher your website will show on results pages.
But it's not just the number of links leading to your website that matters. The authority of theses sites is important too. A link from a high-authority website is more valuable than a link from a low-authority website.
We consider a site to have high-authority when it consistently publishes valuable content, has a sizable audience, and has a high Domain Authority (DA). DA is a metric ranking by Moz that indicates how much influence a website has. Websites are awarded a high domain authority when they perform well in search and have a large audience and digital presence.
Strategy Takeaway: Focus on acquiring links from a variety of high-authority websites. To learn how to pitch influencer websites and get them to feature your content, check out our free guide Secure High Authority Press: 500 Influencers Tell You What They Want.
The Types of Links Leading Back to Your Website
The value of an individual link is affected by another factor — whether the link is a dofollow link or a nofollow link.
When a website links back to your site with a dofollow link, search engines receive this as a signal. The links tells search engines to give credit to your site, which in turn helps your site's search rankings.  
A nofollow link, on the other hand, does give this signal to search engines. There is a special notation in the source code of the link that tells search engines to not count this link as credit to your site. When it comes to improving organic rankings, a nofollow link is less valuable. However, these links come with benefits; we've found nofollow links from high quality sites can actually lead to dofollow links from other sites.
While acquiring many dofollow links from high-authority websites will send good signals to Google, you also have to be careful when using this strategy alone. Google's algorithms are extremely sophisticated, and they are always on the lookout for backlinking tactics that try to game the system.
If your backlink portfolio looks too good to be true and only includes dofollow links, Google is going to take notice. They may think you are using black hat tactics to get only valuable links. If they believe you are cheating, they may penalize your site and decrease your rankings.
A varied link portfolio is natural, and it shows search engines that you are securing links in an organic way. This is a best practice for link building and will help you show higher on SERPs.
So while you want most of your links to be dofollow links from high-authority websites, you also want a diversified link portfolio that includes all of the following:
Dofollow links

Nofollow links

Co-citations

Text attribution

No attribution

Links from high-authority websites

Links from low-authority website
For a full description of these link types, check out our post What Types of Links Are Created From a Successful Content Marketing Campaign?
Strategy Takeaway: Don't try to cheat the process. Naturally build links through authentic content promotion, and consider all types of links a beneficial addition to your portfolio. If another site features your content but doesn't properly link to your site, try going through a process we call link reconciliation. Through link reconciliation, you can try to secure proper dofollow credit.  
The Quality of Your On-Site Content
Google wants to ensure the best content about a topic appears highest in the search rankings. So create the high-quality content it wants to see. Valuable content is original, readable, well-researched, authoritative, and relevant to your website.
Strategy Takeaway: As the Google Webmaster's page describes, focus on creating "a helpful, information-rich site, write pages that clearly and accurately describe your topic."
Pulling It All Together
Many factors affect your ability to improve your search engine rankings, and it's important to pay attention to each. Focusing on only one factor will not help you improve your search rankings. To successfully climb the SERPs, you'll need a holistic content marketing strategy that connects each piece of the puzzle.
Content Marketing Factors That Increase Website Traffic
When you actively engage in content marketing, you draw more visitors to your site and increase your website traffic. This usually happens in two ways.
An immediate wave of traffic comes to your site after the launch of a campaign

A consistent climb of traffic grows over time due to improvements in search rankings
In this graphic, you can see how a client's content marketing efforts resulted in traffic benefits from both the immediate spike and the steady lift over time.  

Third-Party Content Placements That Spike Referral Traffic
Content marketing isn't just about creating on-site content that exists solely on your website.
A well-rounded content marketing campaign focuses on content on your website as well as others. Part of your strategy should include getting your content published on other websites and mentioned or covered on other websites.
When these two things happen, you create opportunities to build backlinks – and you also draw traffic to your website.
When your content is mentioned or published on websites with large audiences, the readers are directed back to you which provides a rush of referral traffic to your site.
Our case study on our The Perceptions of Perfection campaign is a good example of how third-party placements can spike referral traffic.
For the campaign, we published the story on the client's website. The write-up included an original library of images that were Photoshopped by designers in 18 different countries.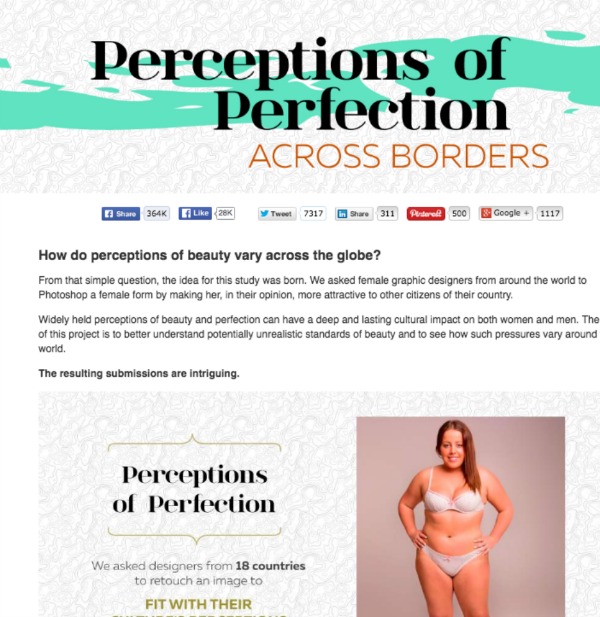 We then approached high-authority websites to see if they would be interested in covering the story and using our original imagery.
Because our concept was emotionally driven, focused on a popular topic, and full of powerful, shocking graphics, websites were quick to cover the topic. High-authority sites with large audiences – such as Mashable, BuzzFeed, and The New York Times – covered the story, which led to coverage by many other publishers. The project was included on almost 600 unique websites.
The result of all of this press was a dramatic increase in our client's site traffic.
Our client received 700,000 visitors to its website within five days of the campaign's launch.
The results of this campaign were powerful, but there are two things to keep in mind as you review this case study.
You can't expect these results for each of your content marketing campaigns. About 20% of campaigns drive 80% of traffic; not every campaign will see a huge spike in referral traffic.

Your referral traffic, while exciting and powerful, will eventually die down. So you need to also focus on increasing your organic traffic. In the first half of this article, we looked at how you can increase search engine rankings. It's important use those tactics to improve your rankings because your appearance in search is a vital part of your content marketing.
Higher Search Rankings That Increase Organic Traffic
Unlike referral traffic that shows an immediate return on your work through spikes in traffic, organic search traffic provides results over time.
Organic traffic takes longer to grow, but it is a strong strategy that has long-term benefits. It has lasting power that will work for your website for years to come.
Ongoing off-site and on-site content marketing efforts create a continuous lift in organic traffic over time, and successful viral content marketing campaigns create a "rising tide" of traffic for the whole site as you can see in the chart above.
We found this to be true during our work for Recovery Brands. Recovery Brands came to us when they were in the early stages of their businesses and needed a long-term growth strategy that increased their traffic, online authority, and social presence.
We worked with them to create a variety of content marketing campaigns that featured attention-grabbing, informative long-form editorial content, quizzes, interactive features, and original research.
The results were impressive in both the short and long term.
Our client saw a 1,100% increase in organic search traffic within their first year of working with us.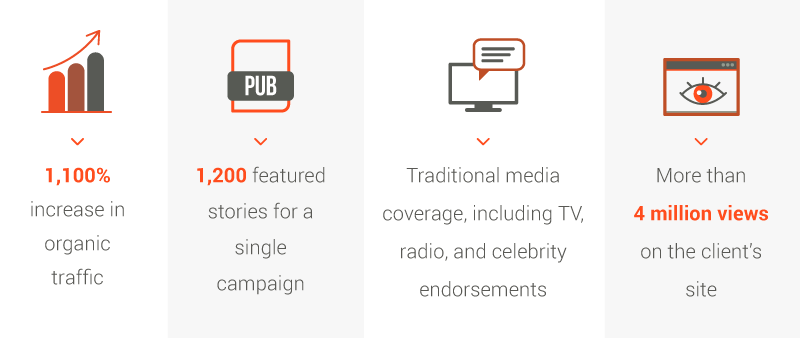 Within that year, the campaigns also resulted in 1,200 feature stories, traditional media coverage, and more than 4 million views of the client site.  
And over time, our work created an even larger impact. Three years later, the Recovery Brands campaigns resulted in 12,500-plus feature stories about its brand and over 1 million social shares of its content.
This case study shows how smart content marketing can increase your organic search rankings, boost your website traffic, and lead to the other long list of content marketing benefits.
When you focus on the best practices to grow both your organic and referral traffic, you maximize your content marketing efforts, receive a high return on your investment, and get the most exposure for your brand.
Want to see more examples of how we have helped clients substantially grow their organic and referral traffic through content marketing? Check out our collection of client case studies.