[Tweet "Creating content that's worth seeing and capable of being seen requires effort."]
If you sit down and write up a simple blog post, hoping that's all you need to promote yourself — that's not enough.
You should certainly write what you're passionate and knowledgeable about, but there's so much content online that it's difficult to stand out. Creating content that's worth seeing and capable of being seen requires more effort.
At Fractl, we've created more than 11,000 content campaigns for clients, and we've constantly studied what elements position content to engage audiences and rank well in search. Along the way, we've identified an arsenal of content creation tools that assist us in this process and can help you build your editorial strategy full of innovative content ideas featuring fresh data and visualizations.
In this post, we'll cover our favorite content tools, explain their value, and advise on how to best use them.
Our Favorite Free Content Creation Tools
Having a small budget doesn't mean you can utilize tools to assist with your content ideation and creation. Here are some high-quality tools at your disposal.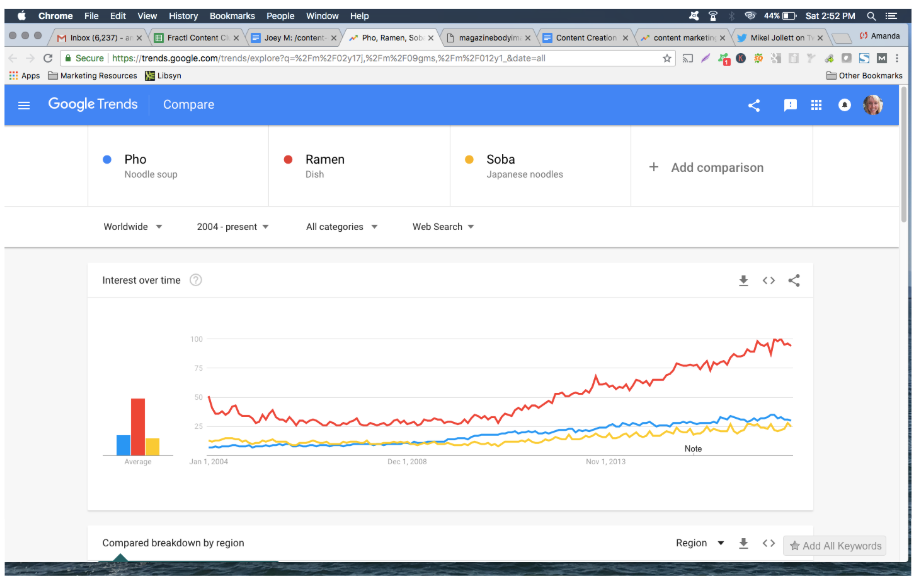 Google Trends shows you relative search volumes for keywords in different time frames and geographic areas, providing amazing insight into what people care about (as determined by what they're searching for).
When to Use It: Either when brainstorming content ideas to see what topics or trending or when creating content to serve as support for a point you're making.
How to Use It: Monitor search interest around a topic or term to see when it's popular; examine what states or countries are particularly interested in a subject matter; use it to provide evidence about the popularity of something.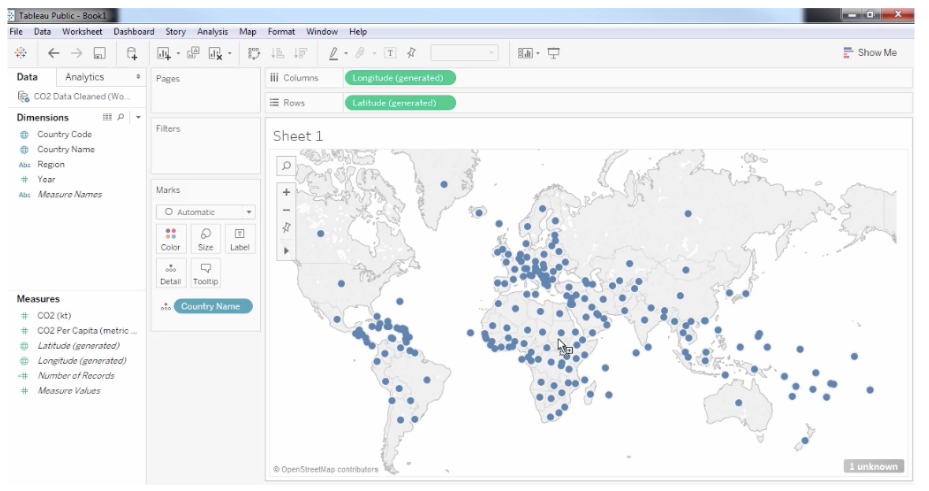 Tableau Public is the ultimate tool for data visualization. It'll take some time investment to learn the features, but once you do, you'll be able to take heaps of ugly data into visuals that came become parts of compelling stories.
When to Use It: When you have a data set, but you don't know what story lies within it.
How to Use It: Take at least one data set and utilize the tool's features to reveal what trends and insights exist in the data.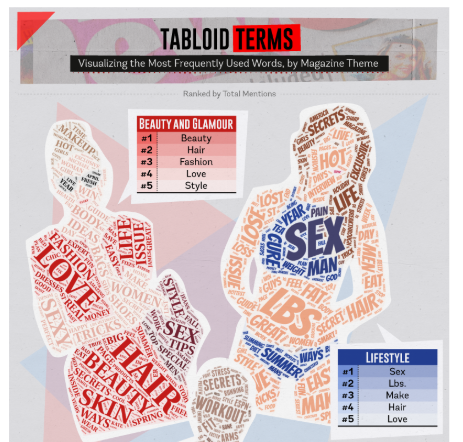 WordArt.com is a simple, accessible, easy-to-use word cloud generator. You can take a ton of text-based content and see what words are used the most — revealing interesting insights in popular topics.
When to Use It: When you want to provide evidence of the popularity of certain topics; when you want to add visual interest to content.
How to Use It: Take a book, a series of Facebook comments, survey results, or anything text-based, and get quick insights on what major trends exist in the massive volume of words; use the site to create eye-catching visuals revealing the findings.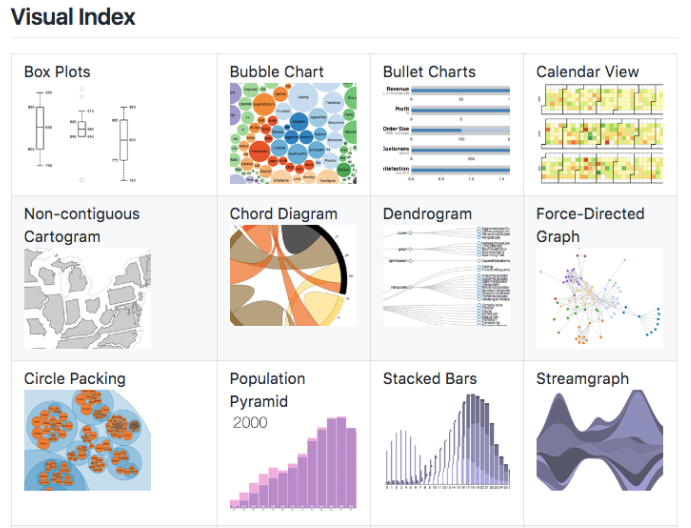 D3.js is a javascript library that allows you to bring data to life with interactive visualizations, including interactive maps, draggable diagrams, and a variety of other moving data formats. Note: Development experience is required for this one.
When to Use It: When you have massive amounts of data that needs to be better organized and easy-to-digest.
How to Use It: Don't make things interactive just for the sake of it; use this tool when you need to build visualizes to handle a ton of data that has a lot to tell; often times, it's worth making this the cornerstone of your content — lead with it and provide static (non-moving) assets that illustrate highlights.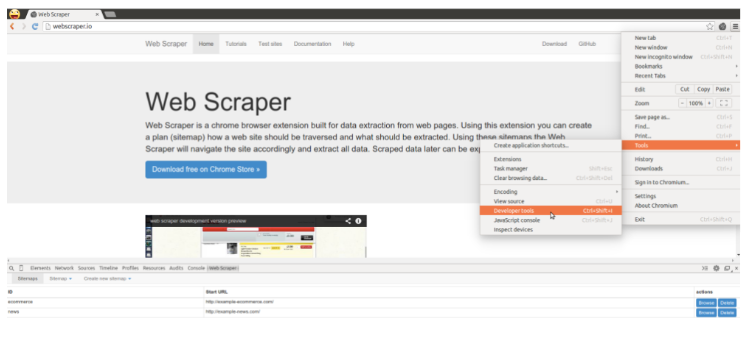 Web Scraper is a Google Chrome browser extension you can use to scrape (or collect) information from a web page. The Chrome extension makes it easy to use and install and offers features such as the ability to target specific pieces of information or information from various pages.
When to Use It: During the brainstorming stage when you're thinking of interesting concepts and what your audience would want to know.
How to Use It: Ever ask yourself, "I wish I could find all the data on ___?" Often times, scraping a site allows you to do that. Use this tool to collect primary data sources for your content. For example, you can compare prices of items, analyze texts from forums or communities; extract a ton of research from various reports, etc.

The Google assortment of apps contains amazing tools for the collaborative content marketing team. You can easily share files, leave feedback, and work together on docs in real-time. (If you have a large team, you might consider G Suite pricing options for additional storage and features.)
When to Use It: Throughout the content generating process whenever you're creating content with a team of people, including writers, editors, designers, etc.; this could be the foundation of how you organize all of your content.
How to Use It: Multiple people can edit in the slide presentations, spreadsheets, and documents you create with Google. Share these files with your teammates and work together to build out your content.
(Here are more free-tool recommendations if you're strapped for cash.)
Our Favorite Paid Content Creation Tools
Sometimes tapping into your budget a bit can have a great ROI. Depending on the kind of content you're creating, it can be worth investing in some of these tools to make your job easier and your content more robust. Here are some of our recommendations for your consideration.
Carto is a powerful web-based tool that specializes in analyzing and visualizing location information. So, you can make maps! The platform offers integrations with Twitter, MySQL, and Google Drive (just to name a few) to let you easily access your data.
When to Use It: If you have geographic-based data you want to talk about in your content, use Carto when figuring out how to best visualize it.
How to Use It: Think about what's significant about your geographic data and highlight that. Perhaps you want to look at location-based social data in real time, compare city and state data, or see how data changed over a certain time period. Map it out and see what's significant.
Price: Professional plans are $149 a month with Enterprise plans also available.

SurveyMonkey allows you to create and distribute customized surveys or quizzes. It's especially useful because it offers survey templates and provides easy-to-use metrics to analyze your results.
When to Use It: When you want a new set of information that tells a story about people's perspectives; when you want to better understand what kind of content your audience wants to read.
How to Use It: You can either use it to gain new data on how people feel about a certain topic or what they'd do in situations, or you can use it to poll your audience base to see what kind of questions are most important to them to inform the kind of content you need to create.
Price: You can get started with SurveyMonkey's basic plan for free. More robust plans are available from $37- $99 a month with a wide array of features.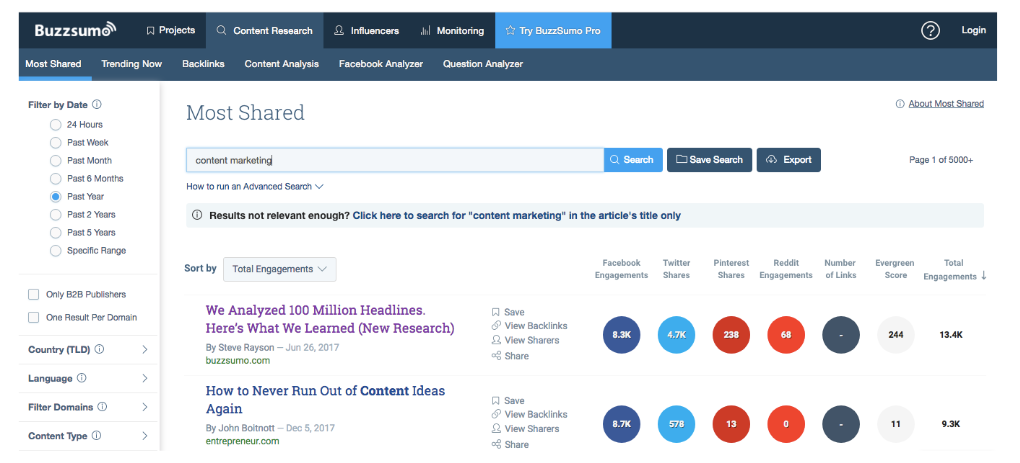 BuzzSumo curates trending and viral content, blog posts, and articles to provide invaluable insights into what's popular online.
When to Use It: When you're trying to decide what topic to create content on.
How to Use It: Search for general topics and see what's performing best. What is it about that content that made it successful? What's missing from the list that you think people would want to read that you can create?
Price: Plans start at $99 a month with additional features and enterprise options available.

Upwork is a freelancing platform where you can connect and collaborate with a large pool of experts in a variety of disciplines.
When to Use It: When you have a content idea that you can't execute yourself, but you have a little budget to work with.
How to Use It: Post your job and qualifications and allow the talent to find you, or you can reach out to individual freelancers directly.
Price: You can sign-up for free, and then pricing is negotiated independently with freelancers. For those looking for a little extra, Upwork Pro and Upwork Enterprise plans offer unique features like dedicated support, handpicked talent, and dedicated account management.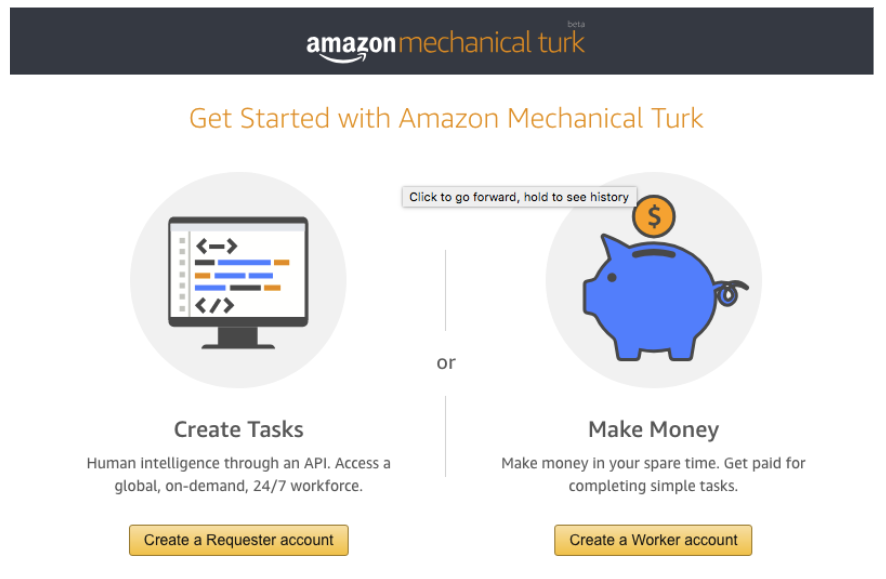 Similar to Upwork, Amazon Mechanical Turk (MTurk) is a platform that can help you connect with a digital workforce. If Upwork is a targeted approach to outsourcing talent, MTurk is a firehouse. The platform allows you to post a task to thousands of workers simultaneously around the world.
When to Use It: When you need help collecting or cleaning up the data that will serve as the foundation for your content.
How to Use It: Leverage thousands of workers to gather information from a collection of sites, write content for multiple pages, source images, categorize information, or for a variety of other tasks.
Price: MTurk is free to use and compensation for workers can be customized for your task.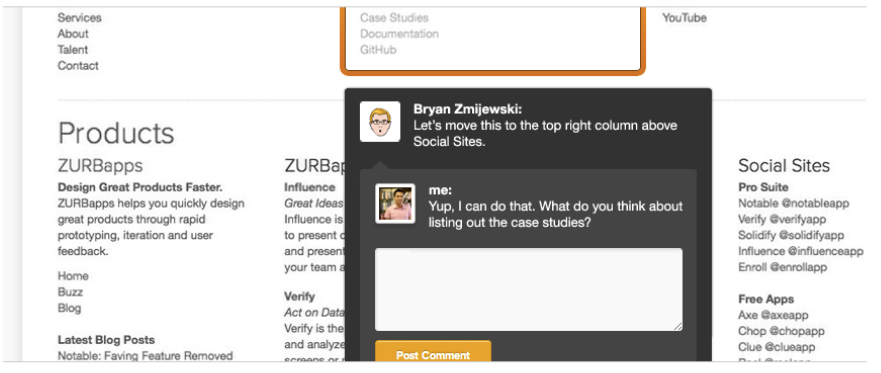 Notable helps your team provide feedback on designs and graphics through intuitive markup tools and the ability to make revision requests. As a bonus, users can work collaboratively across multiple projects and versions.
When to Use It: When you want feedback on anything that's not text-based to make sure your content is in tip-top shape.
How to Use It: Upload an image or PDF to Notable and share it with any teammates whose input you'd like on the content.
Price: The Basic plans start at $19 a month with unlimited team members and go up to $99 a month for additional features.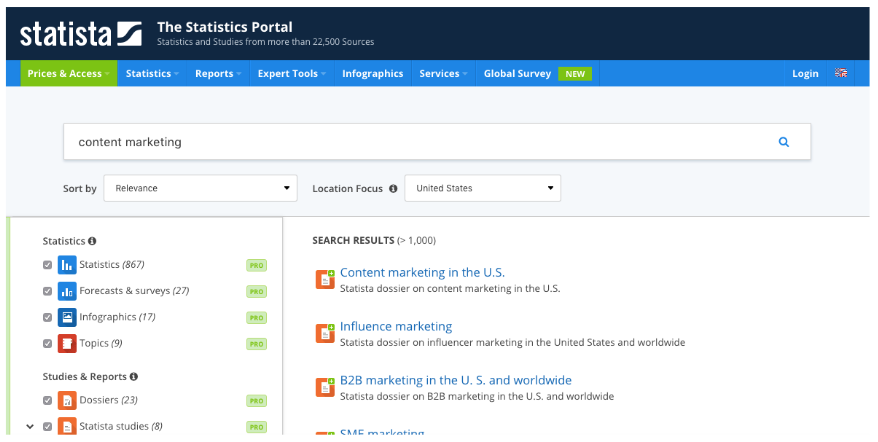 Statista provides a ton of statistics and datasets in an easily searchable way.
When to Use It: When you want to explore data sets for inspiration and brainstorming purposes; when you want to support content with appropriate evidence
How to Use It: When brainstorming, search topics you're interested to see what's available and interesting; download data sets and utilize Tableau Public to explore noteworthy trends.
Price: Individual accounts start at $49 a month with premium options also available.
Content Tools for Development
With this many tools available, it's hard to find any content idea impossible. Make sure to utilize these resources to create content that's high-quality, valuable and original enough to capture the attention of your audience. It's very rare that someone can create great content entirely on their own, so get out there and start getting the support that'll take your content to the next level.
With so many different content marketing tools out there, making decisions about which ones to use can be daunting. We are here to help!
Reach out to us today and we can talk about which strategies would be best for your brand!