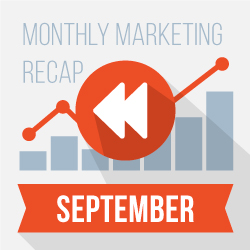 What's in September's roundup:
Key takeaways from content experts around the web, including two back-to-back industry conferences and state of the industry reports, all of which follow a major theme:
The future of inbound marketing
. 
ICYMI: Recaps From CMWorld & MozCon
Featuring over 80 sessions and workshops, Content Marketing World hosted 3,600 attendees in Cleveland for three days of everything and anything to do with content. Just a few days later in Seattle, Moz held their namesake conference for another three days packed with SEO, social media, content marketing, and their beloved mascot, Roger.
LinkedIn Marketing's Alex Rynne summed up five key takeaways from CMWorld, all proving content marketing is growing up. Her roundup highlighted keynote speakers like Andy Crestodina of Orbit Media, who emphasized how content featuring strong research is key to generating engagement (we couldn't agree more).
Ekaterina Walter summed up the thoughts and opinions of 13 experts, whom she interviewed at CMWorld regarding the future of content marketing. From MarketingProf's Ann Handley to CMI founder Joe Pulizzi himself, experts commented on the impact of technology, integration of marketing and sales, and utilization of data for personalization, among other trends. With his co-host Robert Rose, Joe went into further detail about content marketing in 2017 in his podcast This Old Marketing shortly before CMWorld.
Over at Contently, Joe Lazauskas shared his main takeaway from CMWorld: The ideological split of journalists versus marketers as the world of content marketing evolves. Ultimately, the most successful companies will hire both to help complement each others' strengths.  
Shortly after, the annual gathering of SEO specialists and content strategists took place at MozCon. If you're on the hunt for a thorough recap of the conference, Unbouncers Cody Campbell and Chelsea Scholz summarized three days worth of conference notes from 27 speakers in this handy doc.   
TLDR: Summarizing the State of the Industry
At both conferences, many speakers focused heavily on the industry's future. Likewise, a more macro view of the future of inbound was featured in HubSpot's eighth annual State of the Industry report. By surveying thousands of international marketers and sales professionals, their comprehensive analysis (126 pages, to be exact) featured the latest trends and future forecasts in inbound marketing.
HubSpot's Megan Conley highlighted eight key stats from the report, while Lindsay Kolowich discussed seven of the top challenges facing marketers based on the findings, including generating traffic and measuring the ROI of marketing.
Curata took a closer look at content marketing in particular in their new 2016 State of the Sector Report. Curata Content Marketing Director Mitchell Hall offered a summary highlighting the latest trends in strategy, staffing, and tactics presented in the report.
Finally, CMI just released their much anticipated seventh annual content marketing report, highlighting B2B benchmarks, budgets, and trends for 2017. According the report, the future looks bright for content marketing: Six out of 10 B2B marketers felt their content efforts were more successful compared to a year ago thanks to higher quality content and better strategy, among other factors.
FYI: Industry Experts Weigh In On the Future of Content Marketing
As far as the future of content, there appear to be juxtaposing views. Steve Rayson of BuzzSumo presented the idea that a surge in content and decrease in production costs means marketers should consider producing a higher volume of content to drive site traffic and leads, though not focus on quantity at the expense of quality.
Strategists like Ronell Smith respectfully disagree, believing high quantity is typically not the ideal end goal for most brands. In his Moz post, Smith explained that brands may publish content, but they are not publishers, often working with much smaller content teams and fewer resources.
Content Standard's Steve Armenti looked at what's to come for content marketers in a different light. His recent post depicted a future of SEO strategy and storytelling that will be fueled by several key components, including catering to people first and search engines second.
Curious as to what we've been up to this month here at Fractl? In addition to publishing new research, our team has been keeping busy in September as featured guests for industry podcasts and planning our first networking event at our Delray Beach headquarters.
The following two tabs change content below.
Latest posts by Ashley Carlisle (see all)