In today's hiring market, companies have to fork out more and more to create benefits packages that both attract and retain talent. In our employee benefits study, we wanted to thoroughly understand the price and value of employee benefits to help employers weigh the cost against the perceived value of each benefit.
Employers will be happy to see that our employee benefits study found that other than healthcare benefits, the most desirable employee benefits are relatively low cost.
Read on to see which benefits are the most coveted by employees and which are the best value to employers.
Employee Benefits Study: Which Job Perks are Most Important to Employees?
We gave 2,000 people a list of 17 benefits and asked them how heavily they would weigh each benefit when deciding between a high-paying job and a lower-paying job with more benefits.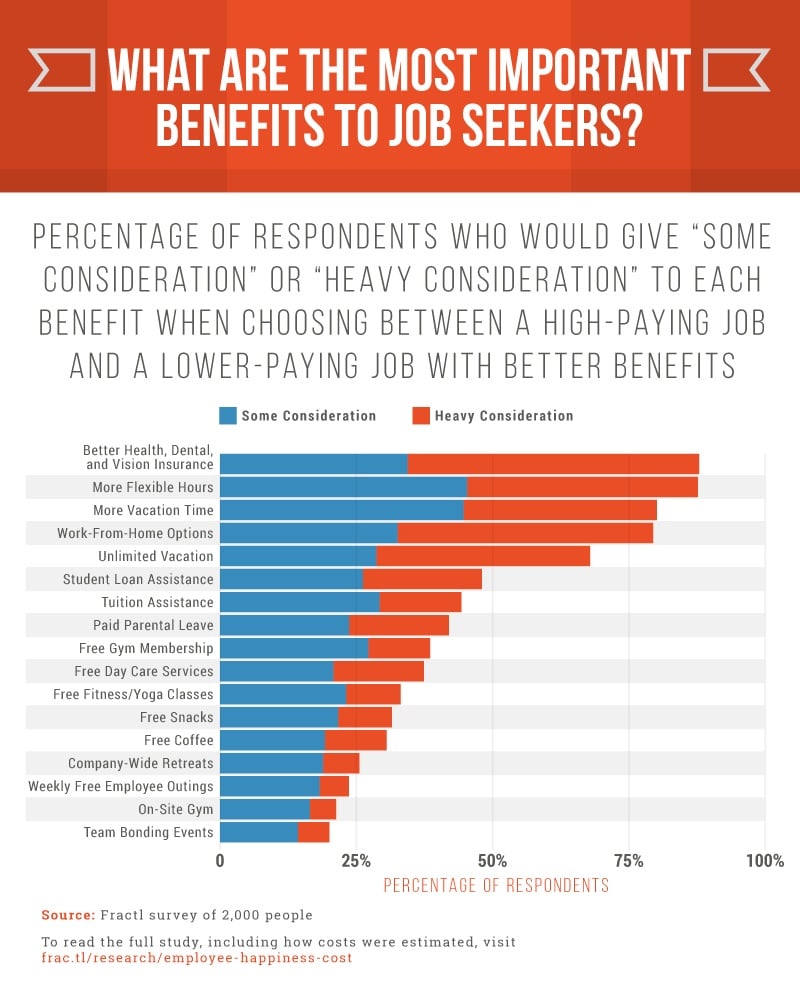 Health, Dental, and Vision Insurance Are the Most Desirable Employee Benefits
Better health, dental, and vision insurance topped the list with 88 percent of respondents saying that they would give this benefit "some consideration" (34 percent) or "heavy consideration" (54 percent).
Employees Want More Flexibility and More Vacation Time
Flexible hours, more vacation time, work-from-home options, and unlimited vacation were the next items on the list. People value benefits that improve their work-life balance. Notably, women valued these benefits more than men. Expert economists, including Claudia Goldin at Harvard University, point to the fact that providing options for flexible work hours (without differential pay) also helps decrease the gender wage gap.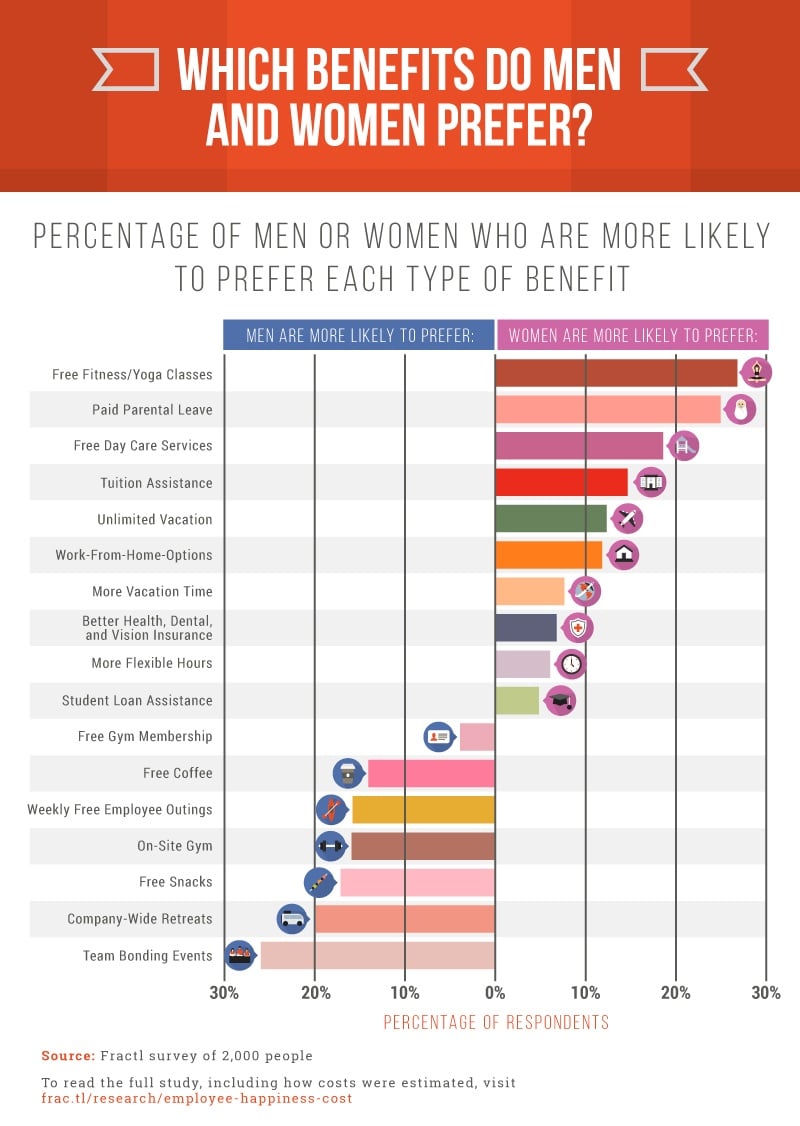 Companies like Netflix and LinkedIn have received fanfare for their unlimited vacation policies. Although the perk is far from widespread, unlimited paid time off has been adopted by a growing number of organizations. When done right, unlimited vacation time benefits employees in the following ways:
An improved work-life balance

Guilt-free time to recharge

A feeling of being trusted by their employer
And rewards employers with the following:
Happier, more engaged, and more loyal employees

Reduced administrative costs

No vacation liability (an average of

$1,898 per employee

).
In October 2015, Fractl instituted a Flex Time Off (FTO) policy that allows employees to take off as much time as they need.
Student Loan and Tuition Assistance
With the skyrocketing cost of college, it is no surprise that student loan and tuition assistance are Nos. 6 and 7 on our list. Only 3 percent of companies currently offer student loan assistance, but 52 percent of companies provide graduate educational assistance (companies can provide up to $5,250 tax-free dollars per employee per year for tuition assistance).
Paid Parental Leave and Free Daycare
The United States is one of only two countries in the world that doesn't provide paid maternity leave to its workers. However, this benefit is important to employees. Twenty-six percent of Care.com respondents said they have changed jobs for better family benefits.
This was another benefit that was strongly favored by women. Twenty-four percent of the women we surveyed said they'd give maternity leave "heavy consideration," compared with 14 percent of men. Although many companies don't publicly announce their parental leave policies, Fairygodboss.com has a crowdsourced database of parental leave policies at various companies.
Free Food
Free food and coffee were low on our list, and it is a little surprising that these benefits made it on the list at all.
Ten percent of respondents said they would give free snacks "heavy consideration" when deciding between a high-paying job and a lower-paying job with more benefits. Only 31 percent said they would give "no consideration" to free snacks. Although the cost of providing free snacks to employees does add up, it is much cheaper than many of the other items on our list, and employees are measurably happier when there are free snacks available.
Why is free food so important to employees? Free food:
Shows employees that a company is invested in their health and happiness

Signals generosity on the company's part

Encourages breaks
While it may not top the list for considerations before joining a new job, free snacks make the employees you do have happier. According to a Peapod survey of 1,000 full-time office workers, 56 percent of full-time workers are "extremely" or "very" happy at their jobs. Of those who had access to free food, 67 percent of workers were "extremely" or "very" happy.
Cost Comparison of Employee Benefits
To better understand the full picture of employee benefits, we calculated the cost of 19 different perks. Fully covered health care was the priciest item on our list, and it cost more than triple the amount of the second most expensive item (paid time off or PTO).
Our full methodology for calculating these costs can be found here.
Thankfully, we found that many benefits that are important to employees (like paid time off and free food) are relatively inexpensive to provide. Although some of these benefits may seem excessive, providing a quality benefits package is in a company's best interest for two reasons:
Fifty-seven percent of people report benefits and perks being among their top considerations before considering a job.
Eighty percent of employees want benefits or perks more than they want a pay raise.
In addition to improved hiring opportunities, happier employees are more engaged and more productive.
Is it Cheaper for Large Businesses to Provide Benefits?
There are some minor differences between health care costs for employers, but many other benefits (PTO, stipends, etc.) cost the same regardless of company size. What accounts for differences in benefits costs for small business as compared to large ones?
Scale. Truly large companies (like Google) can create perks that require scale, such as commuter buses and on-site gyms, cafeterias, and daycares. Larger businesses can also negotiate prices for goods and services because they are providing the vendor significantly more revenue than a small business.
Time Off. For small companies, especially in companies where one person (instead of a team) serves a key function, PTO can be more difficult to provide since there are fewer available, relevant people across whom to spread extra work.
Accuracy of Estimates. The costs for some of these benefits are calculated based on average participation (i.e., for tuition assistance programs) or population-level statistics (full methodology is at the bottom of this page). For example, there were 6.25 live births per 1,000 women aged 15 to 44 in the United States in 2015. We used this statistic to estimate that in a company with 50 people, 3.125 would give birth or have spouses who give birth every year (50 people * 0.0625). The larger the company, the more likely the actual statistic will match the population average. However, if there were an unexpected spike in employees or employees' spouses giving birth in a year, a larger company would be better equipped to handle this unexpected expense.
10 Companies With Unusual Employee Benefits
FullContact, a small software company, offers employees $7,500 to go on vacation (what they call, "paid, paid vacation"). Zappos, an online clothing company, has nap rooms where employees can catch a few Z's. Check out some other companies that give employees unique perks and benefits.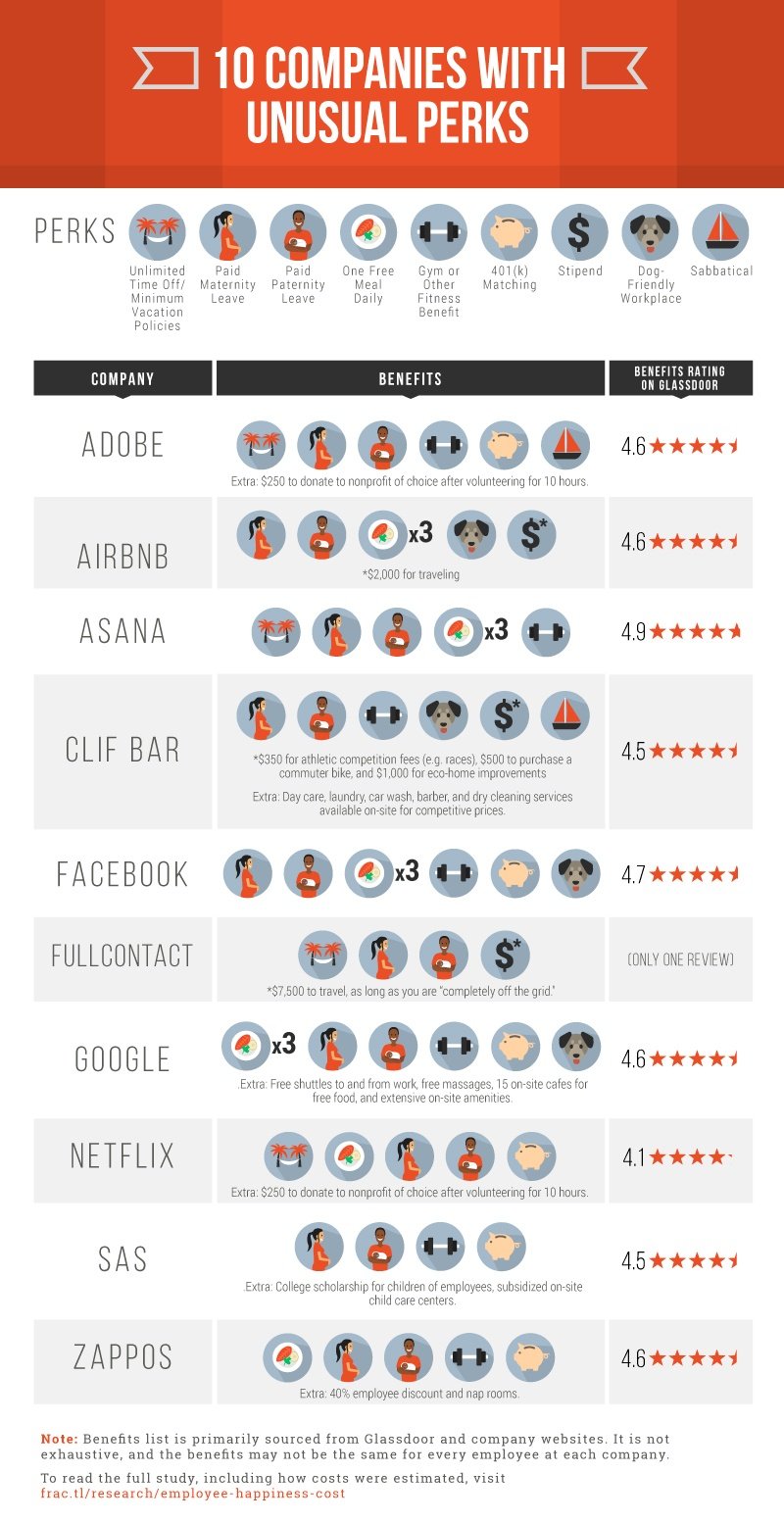 To learn more about Fractl's workplace research, take a look at our study on having difficult conversations at work as well as our investigation of salary negotiations and race.
Methodology
In July 2016, we conducted an employee benefits study which included surveying 2,000 people about which benefits they value the most. We used publicly available data to estimate the costs for various benefits. A full breakdown of our calculations can be found here.
About Us
Fractl is a leading content marketing agency. We regularly create engaging, informative content that appeals to our clients' target audiences and generates press online from major publishers. To see more of our work, view our case studies.