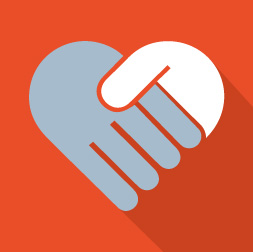 At Fractl, we define our brand in a lot of ways. We prioritize innovation – putting in the work to see what new tactics can make digital marketing more efficient. We love our hardworking team and do everything we can to promote employee growth and happiness. And we truly care about our clients and getting the results for them that they deserve.
It's likely these tenets look familiar to you and your brand, as we believe they're fundamental to success.
But we have one more important tenet we haven't spoken about much on our blog, and we wanted to take the opportunity at the beginning of 2017 to highlight it:
We believe in giving back to the community.
In 2016, our team rolled up their sleeves to help build a house through Habitat for Humanity. For the last two years, we've run a raffle at our holiday party with all proceeds benefiting the Colorado University Collegiate Recovery Center (CUCRC), a program that helps college students with substance abuse disorders.
And now that it's a new year, we're looking for more ways to give back.
That's why when we learned about the True SEO Hero's goal to raise $50,000 for Worldbuilders, we jumped on board. This wonderful nonprofit supports causes that help communities become self-sufficient through livestock and sustainable agriculture, provide emergency relief in areas stricken by disaster, and promote literacy. How can you not get behind that?
To help True SEO Hero win the cash for Worldbuilders, we're featuring the True SEO Hero badge on our site until the challenge ends. Want to help? Visit www.TrueSEOHero.com to learn how you can support the cause.
We already know how much change can be accomplished when great minds work toward a greater goal. Imagine – what can many marketers do for the community when we all work together?
The following two tabs change content below.
Catherine Russo
Formerly on the creative side at Fractl, Catherine uses her experience working on client content to write about how the agency achieves success. Her firsthand knowledge of content marketing makes it easy to tout its merits. At home, the devout "Real Housewives" fan relaxes with her husband, new baby, and three rescue dogs. Her tagline would be: "I won't judge you, but I will point out all your flaws."
Latest posts by Catherine Russo (see all)