Issues with body image are nothing new – Google "body image issues" and you'll have more than 100 million results returned. Body issues are a sensitive subject, especially when it comes to media coverage. Superdrug.com turned to Fractl to bring more attention to this matter and offer helpful resources for anyone who might be struggling with similar feelings of insecurity.
The idea was simple: We asked graphic designers from 18 countries around the world to Photoshop the same model's body by making her more attractive according to their country's beauty standards. By expanding the scope to an international level, we revealed that the pressures of unrealistic beauty standards are felt on a global scale – and this ignited an emotional response felt around the web:
Nearly 600 pickups

, including initial placements with

BuzzFeed

and

The Huffington Post

Extensive international coverage, including

Business Insider Australia

,

CNN Espanol

, six additional versions of The Huffington Post , and even a spot on a Canadian morning show   

More than

3 million views

from the BuzzFeed feature alone

Close to 1 million social shares, with

nearly 20 percent coming from on-site shares
Celebrity endorsements, including Sofia Vergara and Lil Wayne

In less than a week, the campaign earned placements with

The New York Times

,

Yahoo

,

Mashable

,

Bustle

,

Mic

,

Business Insider

,

Gizmodo

,

Marie Claire

,

E! Online

, and 

The Telegraph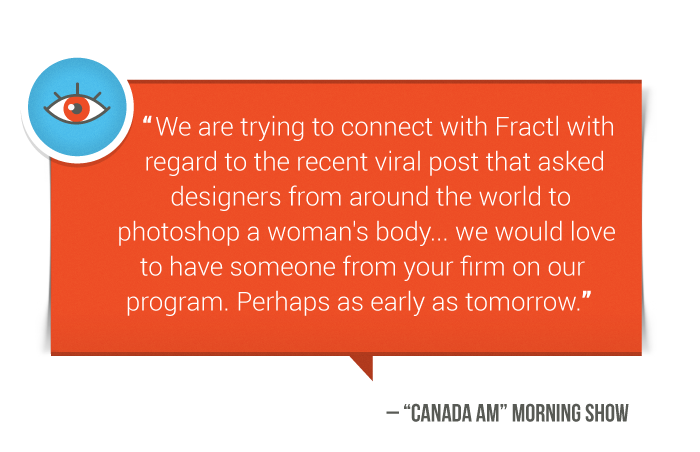 For SuperDrug, that meant more than 700,000 page views to its site in fewer than five days.
So how did we do this? The success of this campaign relied on a unique idea and a highly targeted outreach strategy: We visualized data that every human can relate to and published our exclusive on a site (BuzzFeed) with a readership that is one of the largest demographics suffering from body issues. Queue a massive emotional response and viral syndication of our campaign.
Grab your audience's attention through a unique visual that has shock value.
Emotions are the key to content going viral, and Kristin Tynski, VP of Creative at Fractl, adds that project managers should "consider using data that will tell a human story, resonate emotionally, or tell us something particular regarding human behavior."
"Perceptions" relied on the innate human desire to live up to some form of perfection, and the side-by-side layout highlighted the stark differences in how the idea of perfection can vary significantly by each country.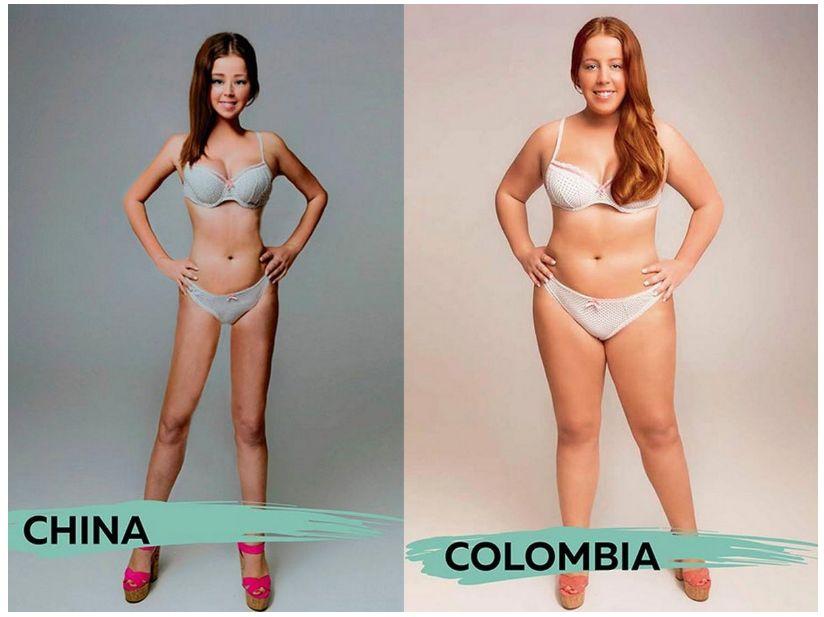 Another strong emotional driver is ego, and by adding the label for each country, we hit the right note for national pride and ego bait. This enticed audiences to see how their country stacked up against others, ultimately inspiring controversy that ignited an ongoing discussion between potential readers and encouraged shares.
Increase social traction by targeting publishers with large, built-in audiences.
Leveraging high-authority placements helps in two ways: It builds your brand as an authoritative, trustworthy source and boosts natural syndication. For the exclusive, we reached out to our established contacts who had covered a similar campaign relating to body image. Editors at BuzzFeed and The Huffington Post loved the idea and wanted the feature to go live immediately. Once we secured these placements, we continued to reach out to our extensive network of writers and editors, although very little additional outreach was needed; in less than a week, the campaign had earned placements with more than 400 outlets.
These top-tier exclusives also amplified the campaign's high level of social engagement and reach, even earning the eye of actress Sofia Vergara and her 7.7 million followers on Facebook.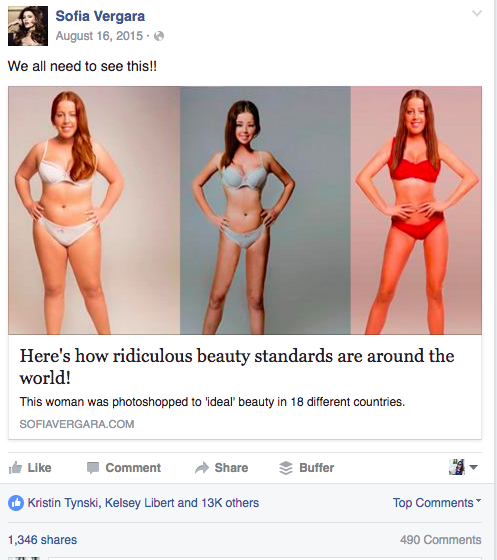 Presenting (1) emotionally charged data (2) that the mass population could relate (3) in a simple and visually appealing way made our campaign strike a chord with publishers and audiences. We worked closely with Superdrug to ensure that our design and execution were in line with their goals and key messages, and the result – nearly 600 pickups, more than 900,000 social shares, and just shy of 700,000 page views – yielded a significant surge in brand awareness and authority.
Want these results for your brand? Learn how working with a leading content marketing agency can increase awareness, grow your online audience, increase inbound traffic, and drive revenue growth. Contact Fractl today.