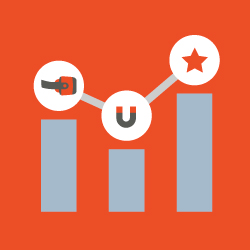 While the underlying principles of attracting, engaging, and converting consumers holds true across any and all inbound marketing strategies and tactics, trends are constantly cycling through the industry. Such a marketing evolution is a perpetual succession of trends inspired by their predecessors. As one trend begins to phase out as its effectiveness begins to wane, another takes its place, and the cycle continues.
That being said, it's that time of year again, the month of roundups and predictions for the new year. Experts have weighed in on what they think the future may hold based on recent trends. As 2016 (finally) comes to a close, let's explore a few trends that dominated this year – each offering some insights on what 2017 may bring inbound marketers.

Continued Growth of Inbound Marketing…
The state of inbound marketing has seen a dramatic change within the past decade, and 2016 was no exception. The inbound methodology of consumers finding you rather than you fighting to find consumers quickly gained momentum, and this year we've seen more information created every few days than all of the information created from the dawn of time to 2003.
But with so much information and content online and a finite audience to consume it, brands have begun running into the issue of differentiating their content so it stands out rather than sink in a sea of noise.
…Means Brands Are Becoming Publishers
In an effort to stand out, large brands especially have shifted their content strategy and mindset to become publishers all their own. The idea of brands as publishers is far from a new idea, but in the past year it's seen a resurgence as marketers strive to capture a loyal, targeted following. By creating audience-centric content, brand newsrooms mirror media newsrooms by providing relevant, quality information in the voice of a brand – with the added bonus of humanizing the brand.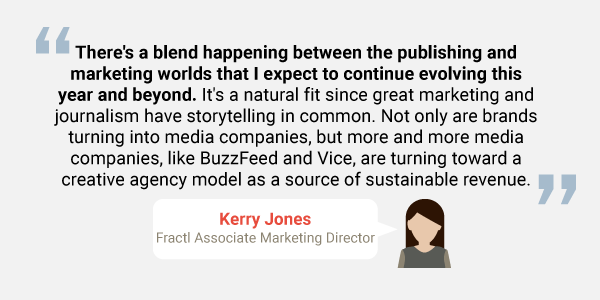 Strong editorial teams lead digital content hubs and campaigns focused on their brand's particular niche to appeal and satiate the needs of an often highly targeted audience. While some argue the digital space is so overly crowded even traditional media publishers are struggling to stay afloat, a niche content strategy continues to prove effective for brands and publishers alike.
Brands like Red Bull have done well with this approach for years by creating a media organization within its company, appealing to various interests with the help of five print magazines, mobile apps, and television programming, among other things . Others have launched new targeted initiatives in 2016, like Equinox's Furthermore offering workout and style guidance to their niche fitness- and fashion-conscious, upscale clientele.  
Some marketers even go as far to say that the brands-as-publishers mentality should be to put content at the forefront of business – on par with your products or services. It's an ambitious goal to become the go-to resource authority in your industry that requires sufficient funding and thought leadership.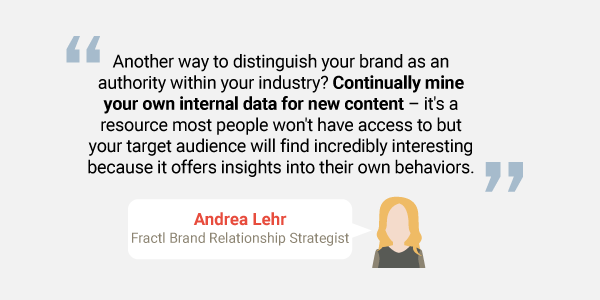 Even if your brand doesn't have the extensive resources for a full-fledged branded publication, creating onsite tools and resources, especially those rooted in proprietary data and in-house insights from your brand, provides valuable ROI, just through a smaller investment.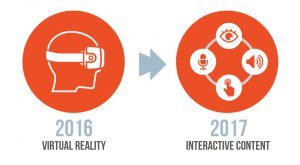 The Inception of Augmented and Virtual Reality…
The idea of putting on a clunky, futuristic headset and some sensor-laden gloves with the promise of being able to go anywhere without physically going anywhere has been the dream of tech junkies for decades. While some argue the VR hype died out around the same time the internet took off, the renaissance of virtual reality was catapulted by Facebook's acquisition of 21st century VR pioneer Oculus.
Although it was a short-lived summer fad, Pokemon Go indicates how quickly new technology like augmented reality can spread and further proves how brands need to ensure they keep innovating even after striking gold to avoid a one-hit wonder.
The resurrection of VR and rise of AR comes at an opportune time: Most people already have the basic technology (i.e., smartphones) required for the new auxiliary equipment promising to fulfill the growing desire of users to escape to a virtual (or augmented) reality.
…Leads to a Rise of Immersive Experience Content
For nearly all waking hours of the day, we're no more than a few inches away from some sort of screen – televisions, computers, smartphones, tablets, smartwatches, you name it. As users begin to crave more immersive experiences that go beyond just staring into a laptop screen, the demand for augmented and virtual reality will grow.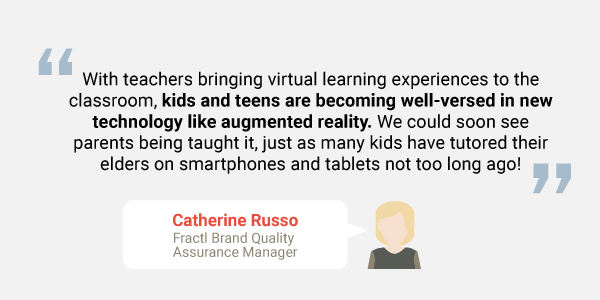 Luckily, the supplemental technology for producing and consuming such content is becoming more widely available. Marketers have already begun to capitalize on this trend. From hosting unique virtual reality experiences at special events or even in stores to distributing such experiential content through everyday digital devices, brands can achieve various marketing objectives through variations of VR such as brand storytelling and demonstrating a product's features.
Even if virtual and augmented reality don't become the mainstream norm for every single household in 2017 (most of those headsets not made of cardboard do run a few hundred dollars), it is here to stay for the average consumer as a whole new way to interact with their computer – and your brand.

The Rise of Influencer Marketing…
Influencers on social networks are gaining steam quickly. As the ultimate word of mouth marketing in today's digital age, influencer marketing allows key leaders in your niche to share your brand or product through their own message and voice to a loyal following.
Experts explain how this year especially influencers bridge the gap between traditional PR and content marketing, and see this trend growing as we enter 2017. With such a high ROI (some studies suggest an 11 times higher ROI than other digital media), it's no wonder this trend is here to stay.
By promoting sponsored content to a targeted, engaged audience without disrupting the flow of the user experience, influencers are arguably one of the most seamless forms of sponsored content – when done well.
…Allows Micro-Influencers to Join the Ranks
Just like more traditional advertisements, some influencer marketing can feel disingenuous and disrupt a user's experience – the antithesis of inbound. In fact, as social follower counts increase, the engagement of influencers' sponsored and organic content often decrease.
Finding effective influencers can be a challenge, especially in some verticals. With an increased emphasis on authenticity and transparency, the shift toward smaller micro-influencers that have more authority over a (usually) smaller but more loyal and engaged audience comes into play.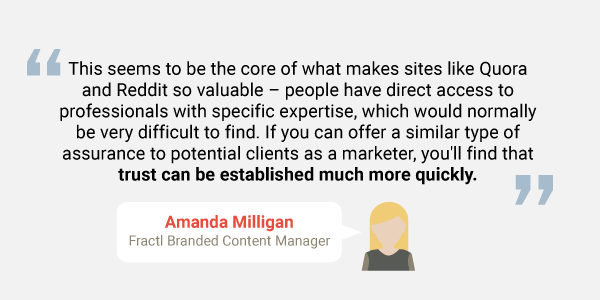 They are not traditional celebrities, rather, they are experts in their niche who demonstrate true knowledge and passion for their field, and therefore are a trusted source when it comes to recommendations.  
While it's impossible to say what the biggest, greatest, or most successful strategy in 2017 will be, today's trends definitely offer a window of insight as to how the industry will continue to evolve tomorrow. The wider implication of these trends in particular is the importance of brands quickly adapting and implementing such ideas as technology continues to rapidly evolve and shape user demands.
The following two tabs change content below.
Latest posts by Ashley Carlisle (see all)