Do you love the flexibility of freelancing but also want to be part of a team?
We're hiring multiple creative freelancers who will work with our creative strategy team on a range of exciting online content campaigns, from infographics to interactives to long-form journalism. You can check out the types of projects you'd work on in our portfolio.
The Fractl team is made up of more than 60 full-time team members at our head office in Delray Beach, and many more around the globe. Additionally, we work closely with many talented freelancers — some have been working with us for years in a full-time capacity.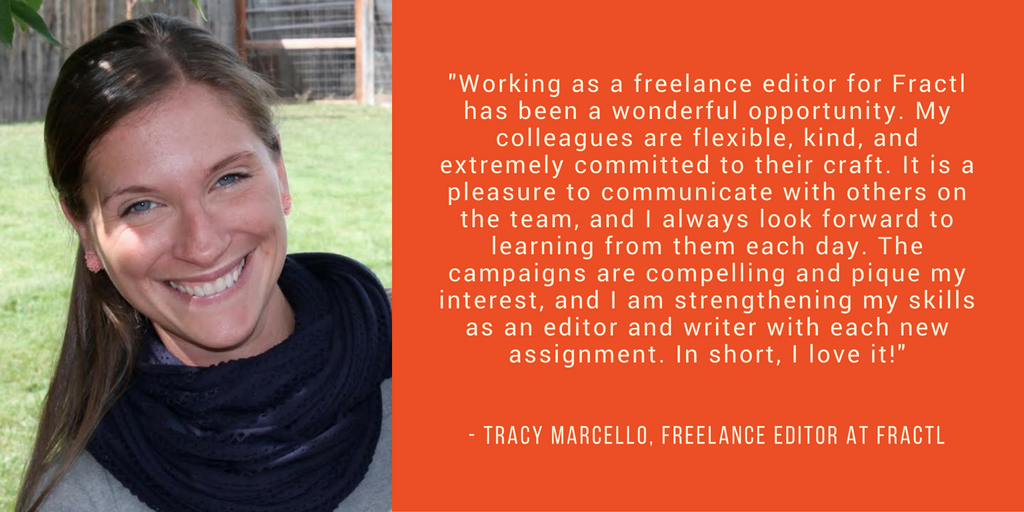 Click on the links below to view more about our current freelance openings:
Project Manager (freelance with potential to become full-time)
Do you love seeing an idea come to life? In this role, you'll oversee the lifecycle of a client campaign from start to finish.
A typical day might include:
Coming up with ideas for a wide variety of clients, ranging from ecommerce to law to addiction and recovery

Managing a team of creatives both in-house and remote, consisting of digital journalists, designers, and developers

Working with an idea from inception to the final deliverable

Ensuring campaign direction aligns with the original vision
View the full Project Manager job description
Production Assistant (hiring full-time and freelance)
This role works closely with our Project Managers on all aspects of the campaign production process, from ideation to research to design direction.
Primary responsibilities include:
Brainstorming content ideas

Conducting high-quality online research

Preparing surveys

Reaching out to potential sources

Writing scripts and other types of content

Giving design direction

Revising content
View the full Production Assistant job description
Digital Journalist (hiring full-time in house and freelance)
This role handles all editorial aspects of campaign production, including research, writing, and editing.
In addition to generalists, we are also looking for digital journalists who specialize in the following topics:
Please indicate in your application if you're interested in one of these specialized digital journalist roles.
View the full Digital Journalist job description
Data Scientist (freelance)
As a data scientist, you will analyze data you collect, clean, model, and test to find the most interesting and surprising findings.
Responsibilities will include:
Assessing potential data sources

Collecting data

Analyzing data through Exploratory Data Analysis and hypothesis testing using such statistical programs at Excel and Tableau

Presenting your findings to an information designer and data journalist for them to produce an engaging visual story and article the general public can enjoy
View the full Data Scientist job description
Front End Web Developer (freelance)
We're looking for developers with a firm knowledge of JS, jQuery, HTML, CSS, and D3.js. As a freelance developer, you will:

Build unique interactive assets in which information/data is visualized in a compelling way

Provide insight as to the feasibility of project ideas

Share your vision for new ways to execute creative projects
View the full Front End Web Developer job description
Researcher (freelance)
Do you have a natural curiosity? As a researcher, you'll be tracking down interesting data which gets turned into compelling campaigns that captivate the web.
Tasks will include:
Assessing potential data sources to find one (or several) that has the potential to reveal a compelling story

Collecting data

Conducting surveys

Writing research methodologies
View the full Researcher job description
Mathematics and Statistics Consultant
This role focuses on data crunching, data verification, and quality assurance. You'll be responsible for ensuring calculations are accurate and data is statistically relevant.
Contact [email protected] to get more details or apply for the Mathematics and Statistics Consultant role. 
Keep checking our Careers page for more opportunities to join the Fractl team.
The following two tabs change content below.
Kerry Jones
As the Marketing Director at Fractl, Kerry often answers, "What do you do?" with, "I market a marketing agency." But really, she leads our in-house marketing team in their quest to help awesome businesses find Fractl. You can also find her work on Harvard Business Review, Moz, and Marketing Land.
Latest posts by Kerry Jones (see all)