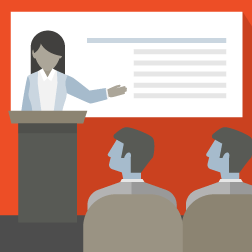 After we hosted our first digital marketing event back in October, Getting Crafty With Content, I shared some of the key benefits of attending marketing events, meetings, and conferences.
From building meaningful relationships to getting fresh ideas and solutions for your business, there is a myriad of solid reasons for digital marketers to attend marketing events, but perhaps the most important reason is to stay current with new trends by learning from powerful industry speakers.
There's no better way to adopt new practices and stay ahead of the curve than to learn from the best people in the business – fellow digital marketers who have tried and tested new strategies and techniques – to find out what actually works.
This year, Fractl sent me to one of the top-rated digital marketing conferences – Unbounce Call to Action Conference (CTAConf) in Vancouver, British Columbia. The conference is renowned for providing marketers with actionable digital marketing advice and insights across a wide range of marketing topics, drawing over 1,200 digital marketers from all over the world and 20 outstanding speakers from companies like Facebook, Moz, and UnMarketing.
Main Takeaways From #CTAConf Speakers
Artificial intelligence was a running theme throughout CTA, but even with Unbounce's impressive machine vs. marketer demo and premonitions of future AI, one thing was apparent at the conference: AI might be a hot topic right now, but the conference itself was jam-packed with human experiences, interactions, learning, and networking. And let's not forget the free hugs from the chief cuddling officer, "Bond, James Bond."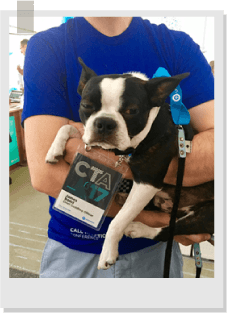 Some of my favorite humans to take the stage had an enormous amount to say about digital marketing, particularly about topics that Fractl can get on board with, such as data-driven design, the power of strategic storytelling, influencer marketing, and SEO/CRO.
To save you from watching over 10 hours of video content from the conference, I thought I'd highlight some of my favorite takeaways from a handful of the world's brightest digital marketers.
Data-Driven Design: Oli Gardner, @oligardner
"Design decisions need to be informed by data, not trends." – Oli Gardner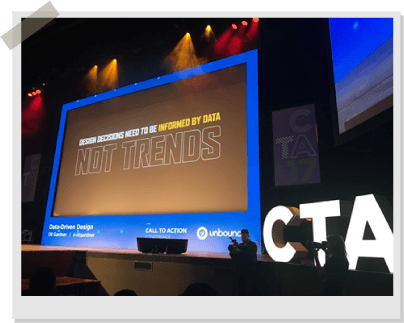 Oli Gardner, the co-founder of Unbounce, was the first keynote to take the stage and ironically encountered technical difficulties after an opening about AI.
Though his main points were about data-driven design, his ability to improvise missing parts of the audio from his presentation provided the audience with an even bigger takeaway: Make sure you know your presentation like the back of your hand.
Biggest take-away from @oligardner's opening at #ctaconf: when you present, only use videos you are prepared to act out if audio fails

— Monica McMahen (@mlmcm) June 26, 2017
Oli then went on to demonstrate the importance of using data. "Sixty-seven percent of marketers in this room said they don't have enough data to do their job effectively," he said.
What good are trends such as smart navigation and asymmetrical design without the data to back up whether these designs work?
OLI'S MAIN TAKEAWAYS
USE A 3-D FRAMEWORK FOR DATA AND TESTS. ASK YOURSELF: 
Does your hero shot – a photo or video clearly displayed on your landing page and used to show benefits and context of use – effectively convey what your product does?

Is a design trend causing your users frustration and ultimately hurting conversions?

Where are users getting stuck?
TEST THE FOLLOWING FOR CONVERSATIONAL FORMS: 
Conversational forms have become a huge trend in data-driven design and are one of the most interesting new interaction models to emerge in the last year or so. They turn a regular web form into a chat-like experience.
With any new concept, it's important first to watch how people use it. If you're planning on using conversational forms for your business, Oli recommends asking yourself the following questions when testing:
How do people react to the new interaction model?

Is it a good experience on mobile?

Is scroll behavior different?

Where do people click on the form?

Is there a difference in the number of fake emails and professional email addresses?
TEAMWORK MAKES THE DREAM WORK
When analyzing how marketing and design teams work together, Oli found major disconnects that caused frustrations. He found that "81 percent of designers have to start their design work before they even receive the copy" and that "98 percent of marketers are responsible for giving design feedback to designers." The most surprising finding was that "87 percent of marketers who give design feedback believe they are qualified to do so."
As a result, 32 percent of marketers admitted to finding designers frustrating, and 45 percent of designers reciprocated that feeling toward marketers.
The solution? Write design ideas as a team, and have each team member create a version of a design card to discuss. In addition, collect user data together and discuss: where the user clicked, what they did in the time the session was recorded, what was observed in the usability test, how far they got in the scroll map, etc. Collaborating on this process will empower your team and "create working relationships that remove the frustrations marketers, designers, and copywriters often feel."

The Irresistible Power of Strategic Storytelling: Kindra Hall, @kindramhall
"Humans love stories." – Kindra Hall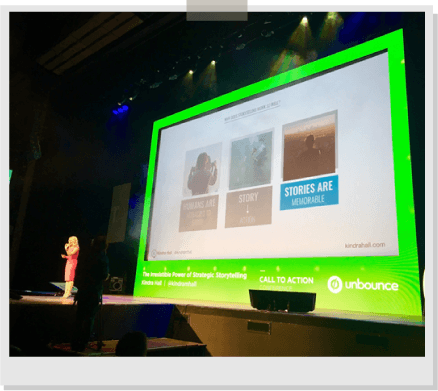 Remember Budweiser's 2014 Super Bowl commercial with the cute puppy and horse? How could one forget, right? But why is it forever engrained in our memories? Kindra reminded the audience that Budweiser didn't even have to mention their beer because it was the power of the story that made us remember.
In fact, Kindra mentioned a study that proved Super Bowl commercials that used a story in their narrative beat out commercials that only incorporated celebrities or cute animals.

The study also revealed Facebook ad campaigns that tell a story drive more subscribers. Similarly, when we looked at 345 Fractl campaigns for our report on "What 300+ Content Marketing Campaigns Can Teach You About Earning Links," creating an emotional experience through storytelling was crucial for viral success.
KINDRA'S MAIN TAKEAWAYS
WHAT A STORY IS NOT
A story is not just awesome data. What exactly does that mean? Data will tell you what stories you need to tell and whom you need to tell those stories, but if you just stop at the data, you're missing the most important piece. Try to avoid explaining what your product or service does and instead use data to show the benefits.
WHAT A STORY IS
A story happens in a particular moment. There is a beginning, middle, and end. There are emotions and something at stake. Most importantly, there should be characters in your story that people will care about, like the puppy and the dog from the Budweiser commercial.
WHAT'S THE BIGGEST STORYTELLING MISTAKE?
Alluding to the story but not actually telling it. When crafting the story, you should concentrate on "normal, explosion, and new normal" – basically what was, what happened, and what is now as a result.
Why We Can't Do SEO Without CRO (Slides): Rand Fishkin, @randfish

"Solving the user's query needs to be the ultimate measure of success." – Rand Fishkin
At Fractl, we achieve growth for our clients through content marketing, digital PR, and SEO. It's our love for SEO that helped us earn a spot on Moz's Recommended List of SEO/Marketing Consultants, Firms, and Agencies.
As you can imagine, Rand Fishkin, the co-founder of Moz, was at the top of my list of speakers to see. Lucky for me, I got to meet the star of the show before the conference even began.
When you're checking into your hotel and meet the star of the show #CTAConf @randfish @fractlagency #SEO #DigitalMarketing #tech pic.twitter.com/u2lEhAkkNL

— Ashlea Green (@AEAGreen) June 26, 2017
In his presentation, Rand explained how much Google has evolved over the years with engagement emerging as a major ranking signal, and how Google is using engagement to refine its search results. There were so many takeaways from Rand's talk that I'm just going to get right to them.
RAND'S MAIN TAKEAWAYS
Google has also shifted from prioritizing good results to providing searchers with the fastest answer. What do you need to do? Searcher task accomplishment: Create content that helps the searcher accomplish his or her task.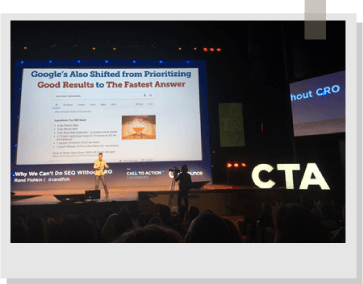 But what's the catch? You need to take the user all the way through his or her issue until it's resolved. Why? Google rewards pages that are optimized for task accomplishment. Here's a look at Rand's steps that will help you win: 
Step 1: Use keyword explorer or a keyword research tool of your choice to establish your primary keyword target. Then expand with related keywords that share the same searcher intent.
Step 2: Add in keywords with slightly expanded intent. Grouping features in keyword research tools can be useful for ID'ing unique searcher intents.
Step 3: Check out your competition. Who is ranking, and who's doing it well? What tasks are they helping searchers solve? What similar strategies can you implement?
Step 4: Struggling to shape your content? Survey a small group of people to get real, detailed responses. Hint: Use Typeform – you'll get 30 percent more completed responses than SurveyMonkey. Once you have your list of "searcher expectations" (the responses from your survey), create content that can answer people's questions and solve their problems.

Step 5: Create content that matches each need and apply Rand's "On-Page SEO Checklist," which can be found in his presentation deck, to make sure you're delivering value beyond what your competitors can offer.
Adapt These Strategies for Your Own Business

Take what you've learned from the speakers' main takeaways above and run with them. After all, content marketing doesn't stand a chance at reaching the right audiences without data-driven design, strategist storytelling, and keywords for SEO and CRO.